New Feature: Schedule an Interview With Anyone Using Public Booking Links
Recruiting for an open position can take place across a variety of different communication channels. This might be over LinkedIn, different messaging apps, online chats, and anywhere else you're reaching potential candidates.
No matter how you prefer to communicate these conversations eventually lead to a formal job consideration and scheduled interview. However, gathering contact details, availability, and associating candidates to the correct job and interview stage from these channels can be an inefficient, multi-step process.
Now in Ashby, you can use a Public Booking Link.
Public Booking Links are special scheduling links for a specific Job and Interview Stage that you can send to anyone whether they exist in Ashby or not. You can also embed them as a substitution token to be used in your email sequences. Once the recipient of the link schedules themselves they will be created in Ashby (if needed) and automatically moved to the correct interview stage of the associated job. A workflow for Public Booking Links looks like this:
Copy the unique Public Booking Link for a Job and Interview stage.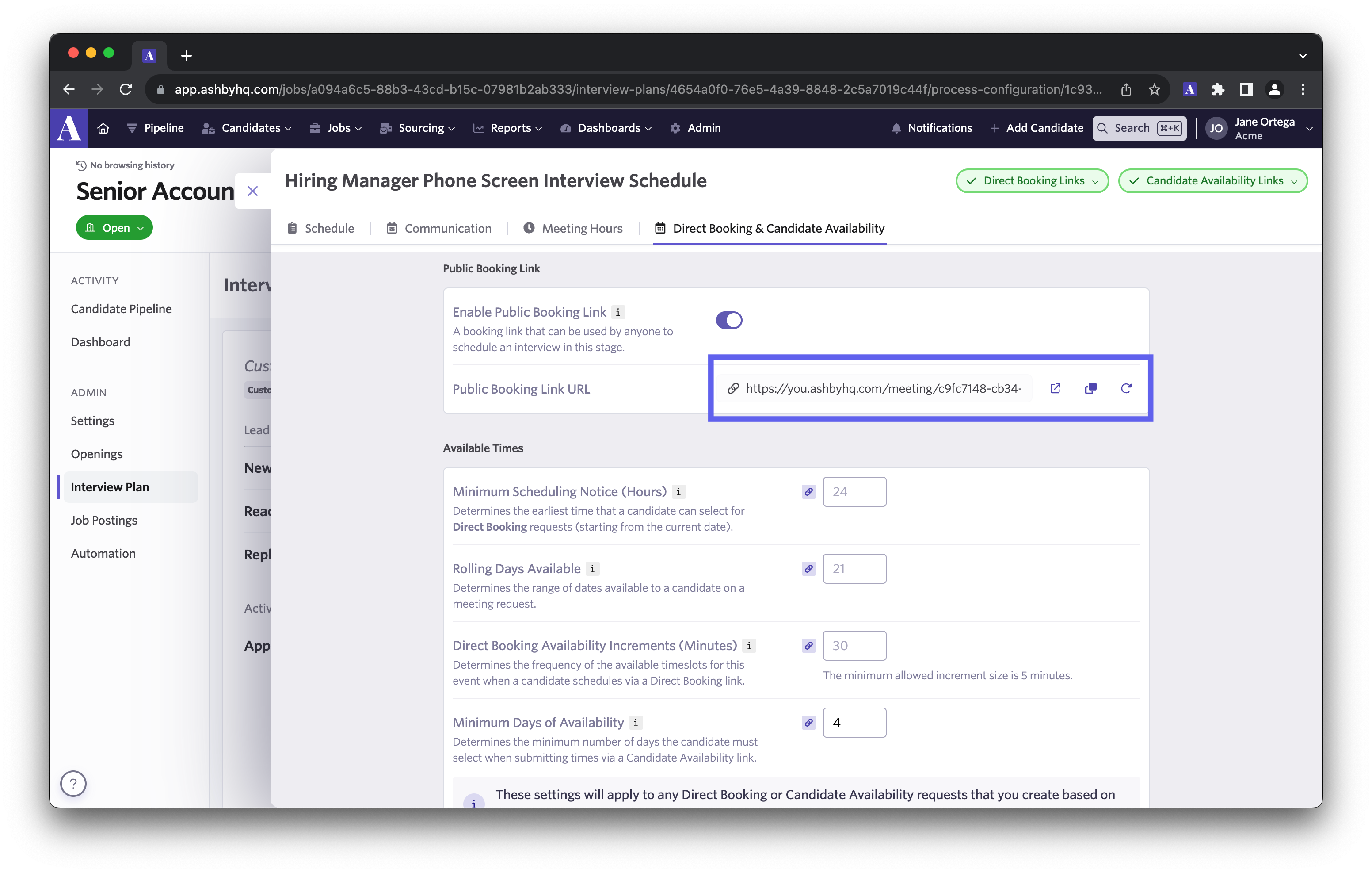 Send the link to anyone depending on the context of your previous conversations.
The recipient will pick a time slot based on the availability of the interviewer for that job and stage.
After they've entered in their contact information and completed the booking process a unique event URL is generated where they can cancel or reschedule as needed.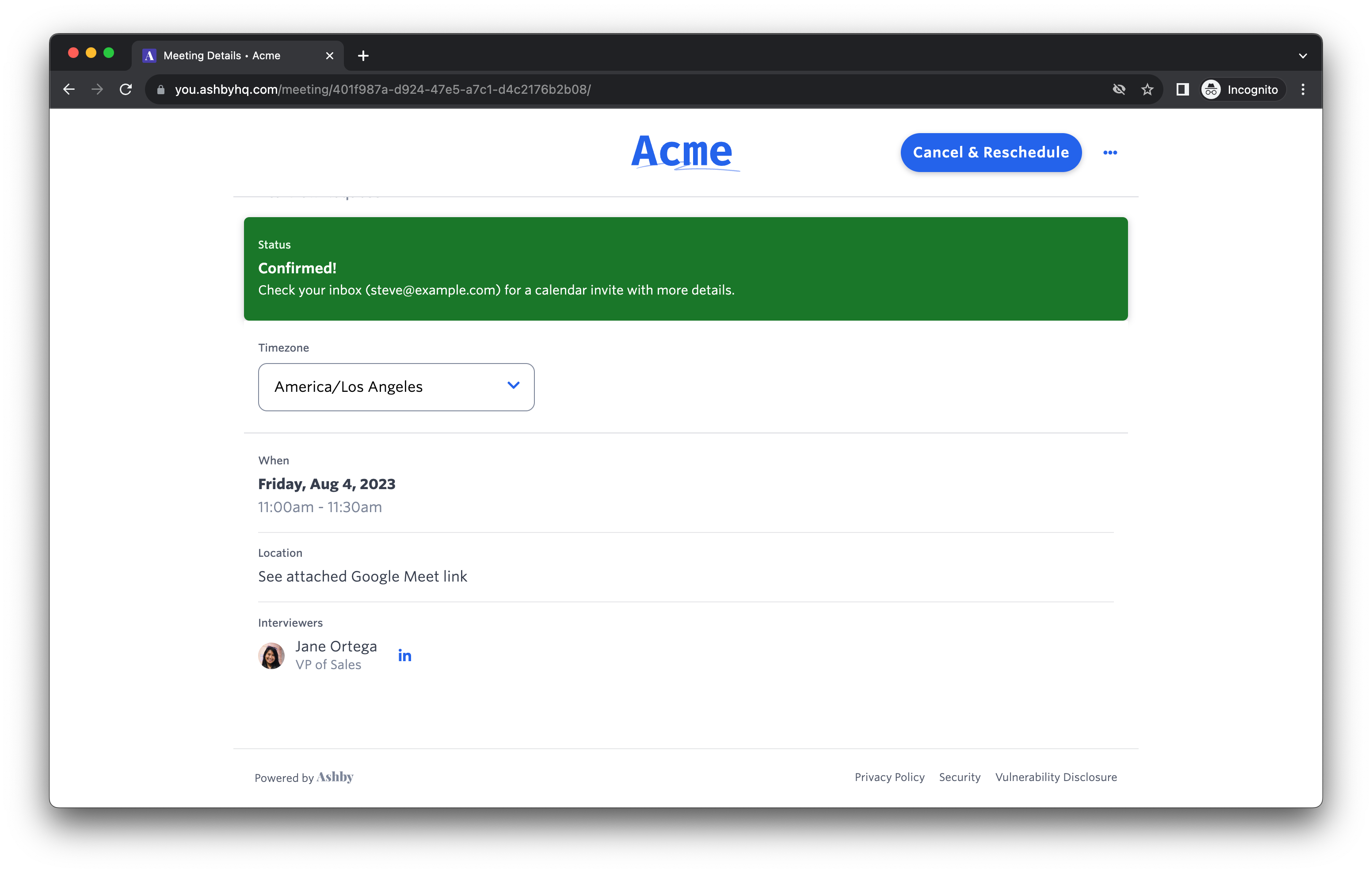 Once recipient has completed the booking process a few things will happen. Ashby will automatically:
Create the candidate (if needed)
Associate the candidate with the Job and move them to the correct Interview Stage
Schedule and send out calendar invites to the interviewer and candidate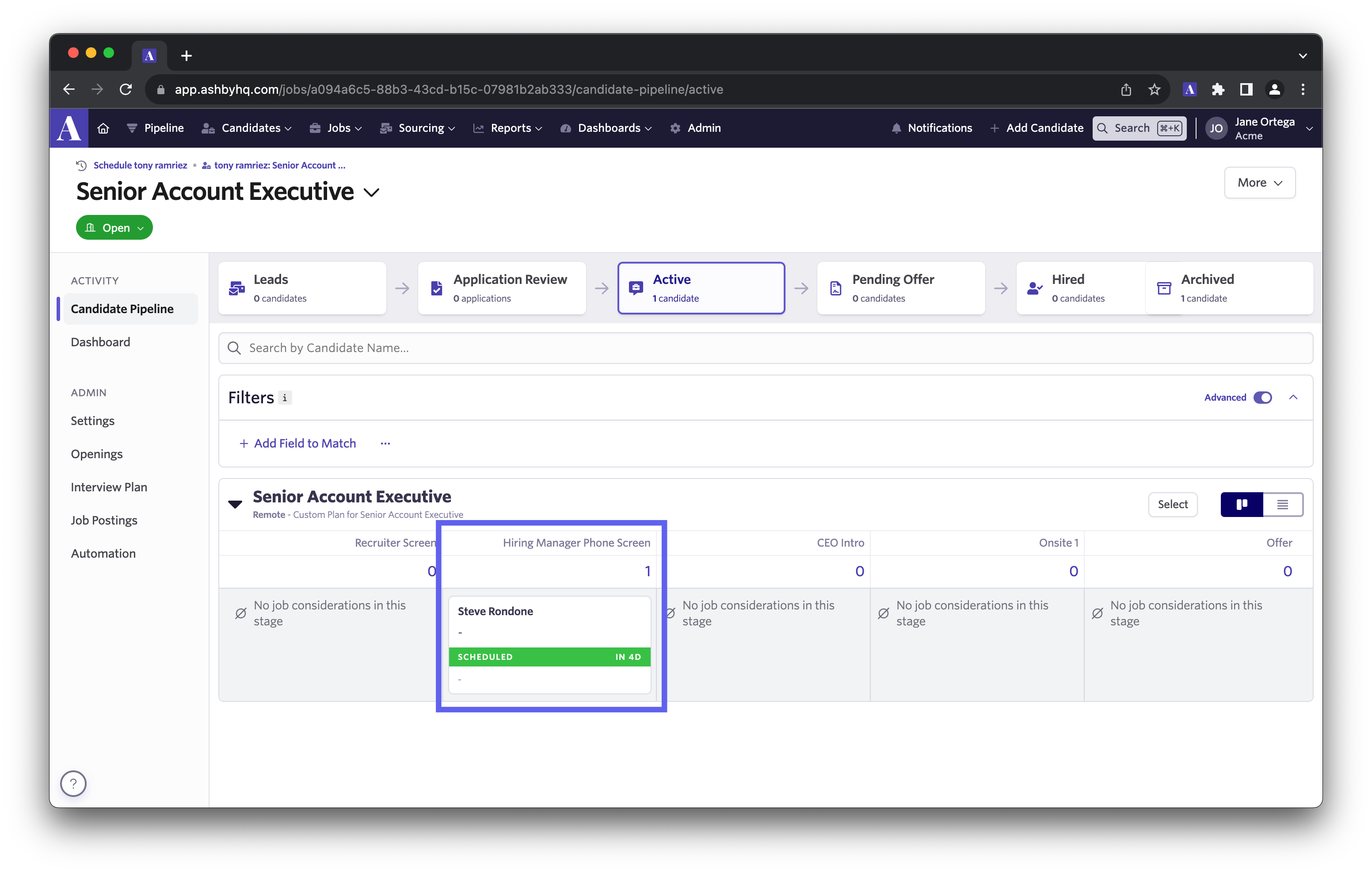 You'll notice the candidate is now in the pipeline for the associated job and already scheduled for the interview at the Hiring Manager Phone Screen stage.
You can also add Public Booking links as substitution tokens into Sequence tied to specific jobs. This will insert the Public Booking Link for the first Interview on your job's Interview Plan.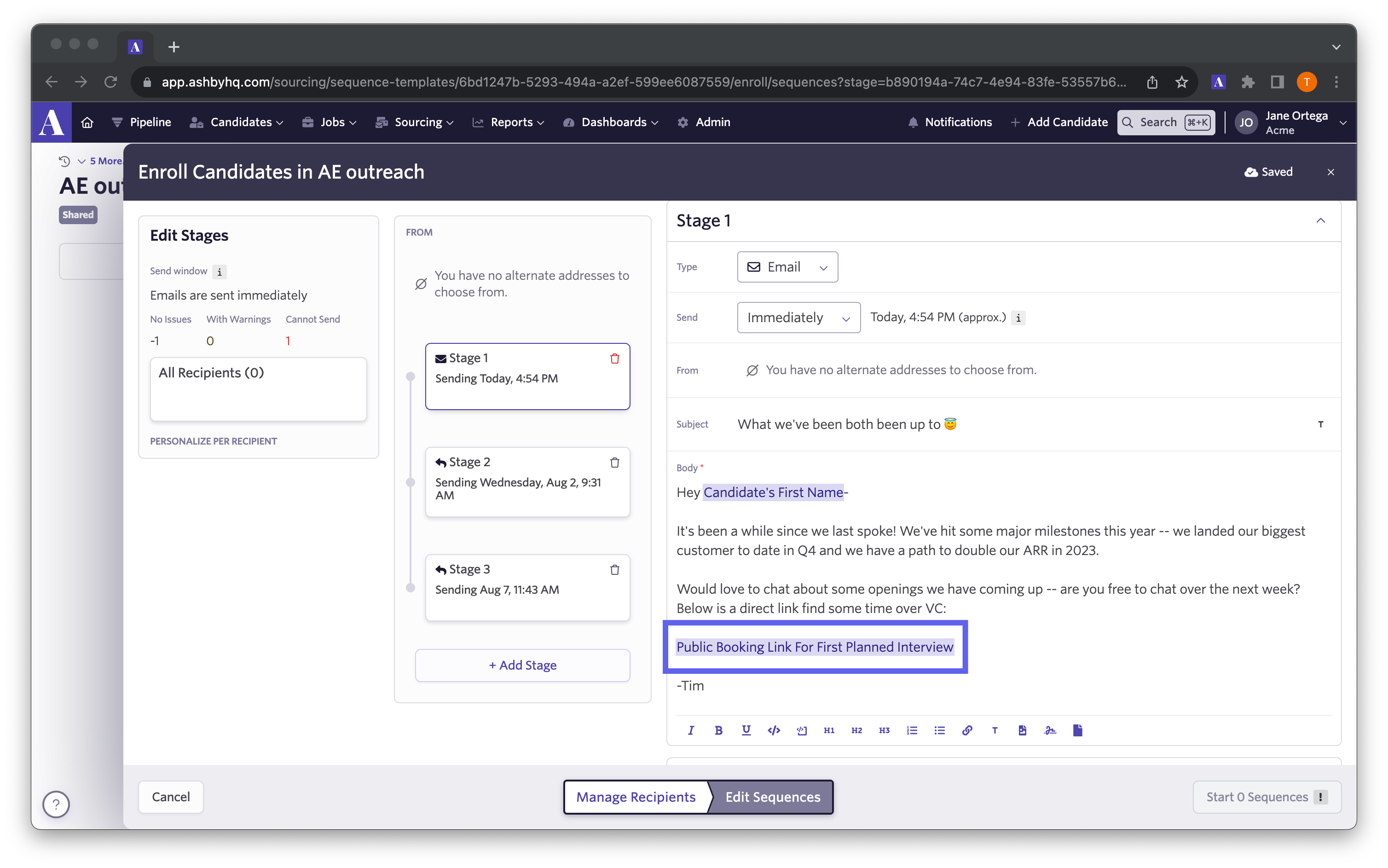 When a candidate fills out a Public Booking link from a sequence, Ashby will mark them as "Recipient Replied", stop the sequence, and mark them as converted.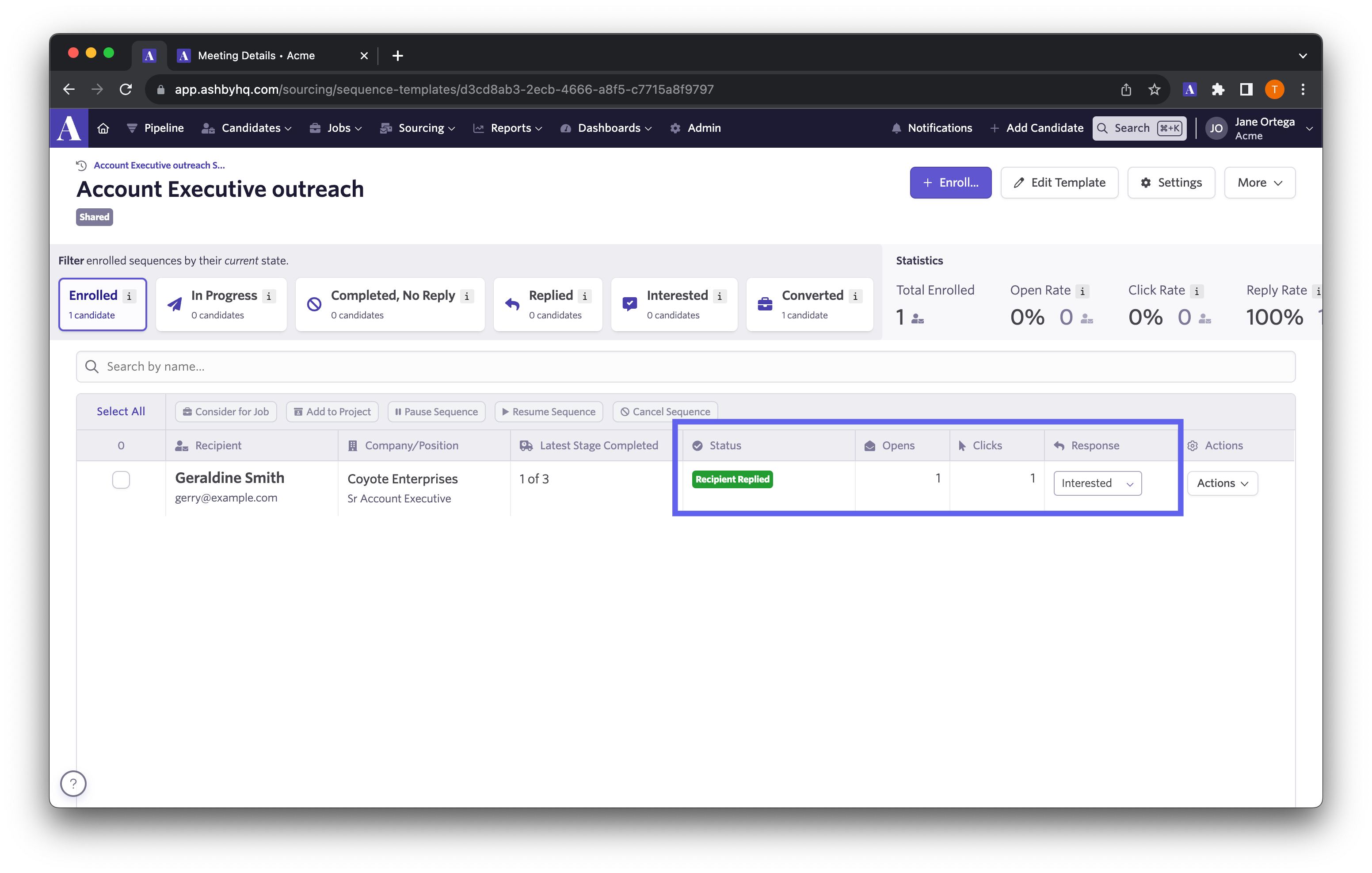 You will now see the candidates in the pipeline with the interview scheduled.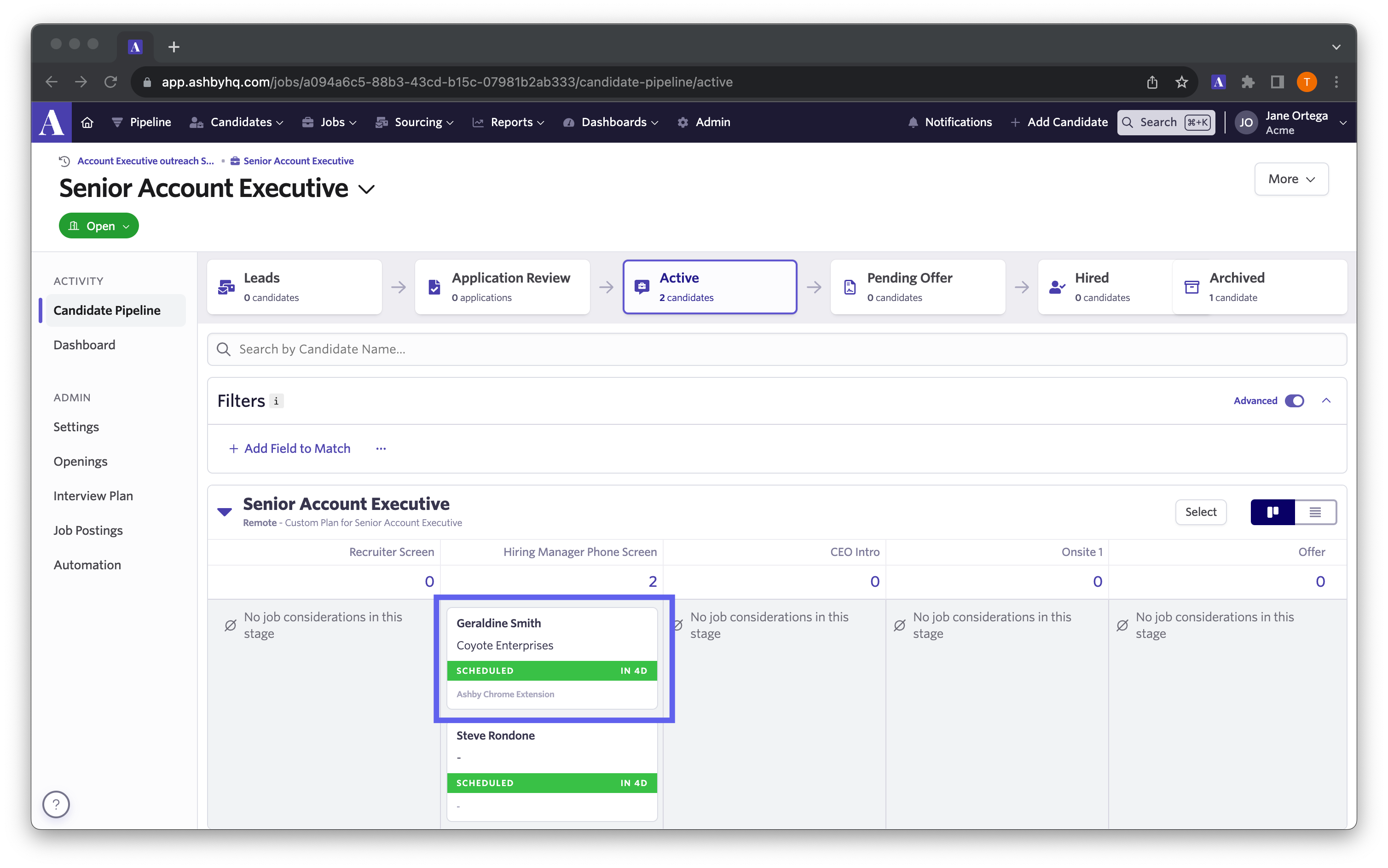 Streamlining the scheduling process is one of the best ways to improve the candidate experience. It also helps recruiting teams efficiently move candidates through their hiring process and gives them a new tool to increase conversions.
If you're already using Ashby you can learn more at Ashby University, or get started by heading to the "Direct Booking & Candidate Availability" tab on your interview schedules. You can also book a demo if you're interested in using the new Public Booking Links for scheduling candidates directly in Ashby!