New Feature: Set Application Limits for Inbound Job Applications
As we've highlighted in our recent application trends report, companies are seeing a big influx in inbound applications. Our new Application Limits feature will help you enforce rules around your application process. We have seen first hand how these rules can have a positive impact on your hiring process by:
Helping candidates be more thoughtful about their applications by picking the roles most relevant to them, rather than applying to a large number of open positions at your company
Limiting the application review burden for your hiring team which improves review times, candidate experience, and increases the likelihood of your team finding strong candidates within your applicant pool
With the introduction of "Application Limits" you now have the ability to block job applications by setting limits on how often candidates can apply to your jobs in a given timeframe. This new control is perfect for scenarios where candidates excessively apply to multiple open jobs, or when you receive repeat applications from recently rejected candidates. See how it works below.
Get started by using Ashby's built-in filters to specify which Jobs your application limit rule should apply to. You can access all Job fields as filter criteria, allowing you to target jobs with precision.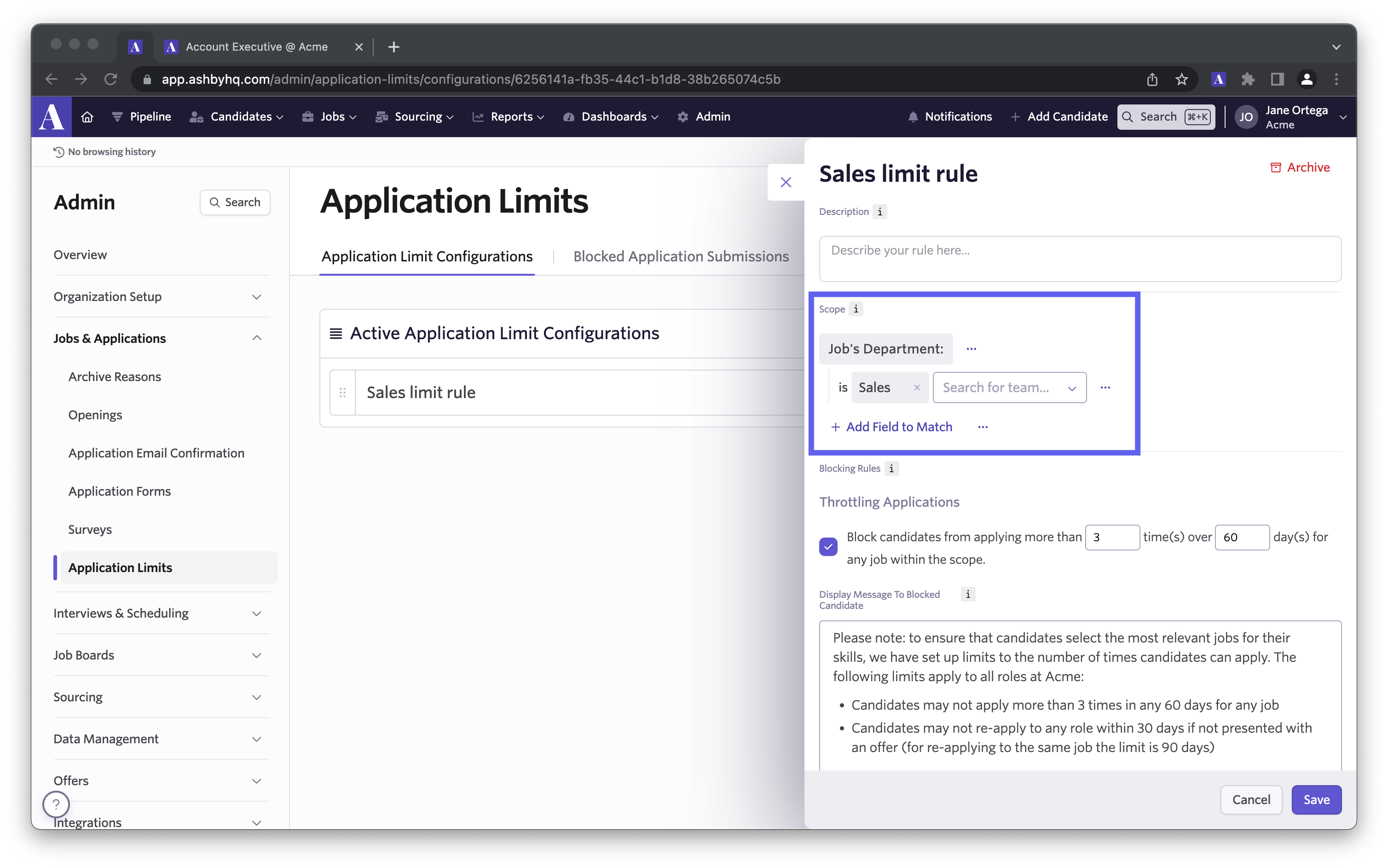 Once you've set up the correct job filters, you can define the application limits you want to set. Typically, this breaks down into limiting the number of applications a single candidate can submit across jobs and/or disallowing rejected candidates to apply again. You can set a timeframe for each rule, ensuring you don't block a candidate indefinitely. Check out the rules breakdown below: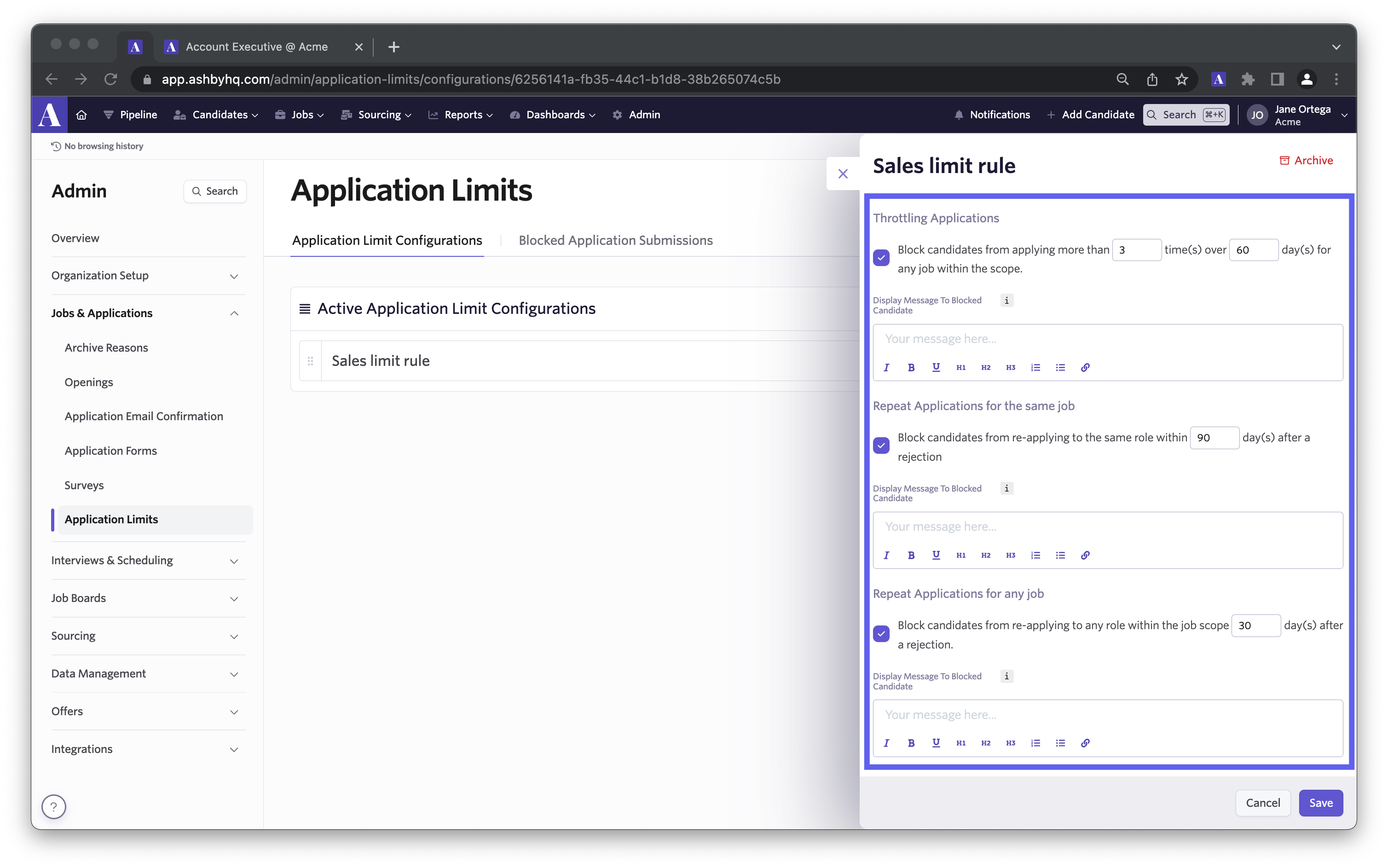 Block candidates from applying more than X times over X days for any job
Block candidates from re-applying to the same role within X day(s) after a rejection
Block candidates from re-applying to any role within the job scope X day(s) after a rejection
You can also display a message to candidates letting them know if you have any application limits in place.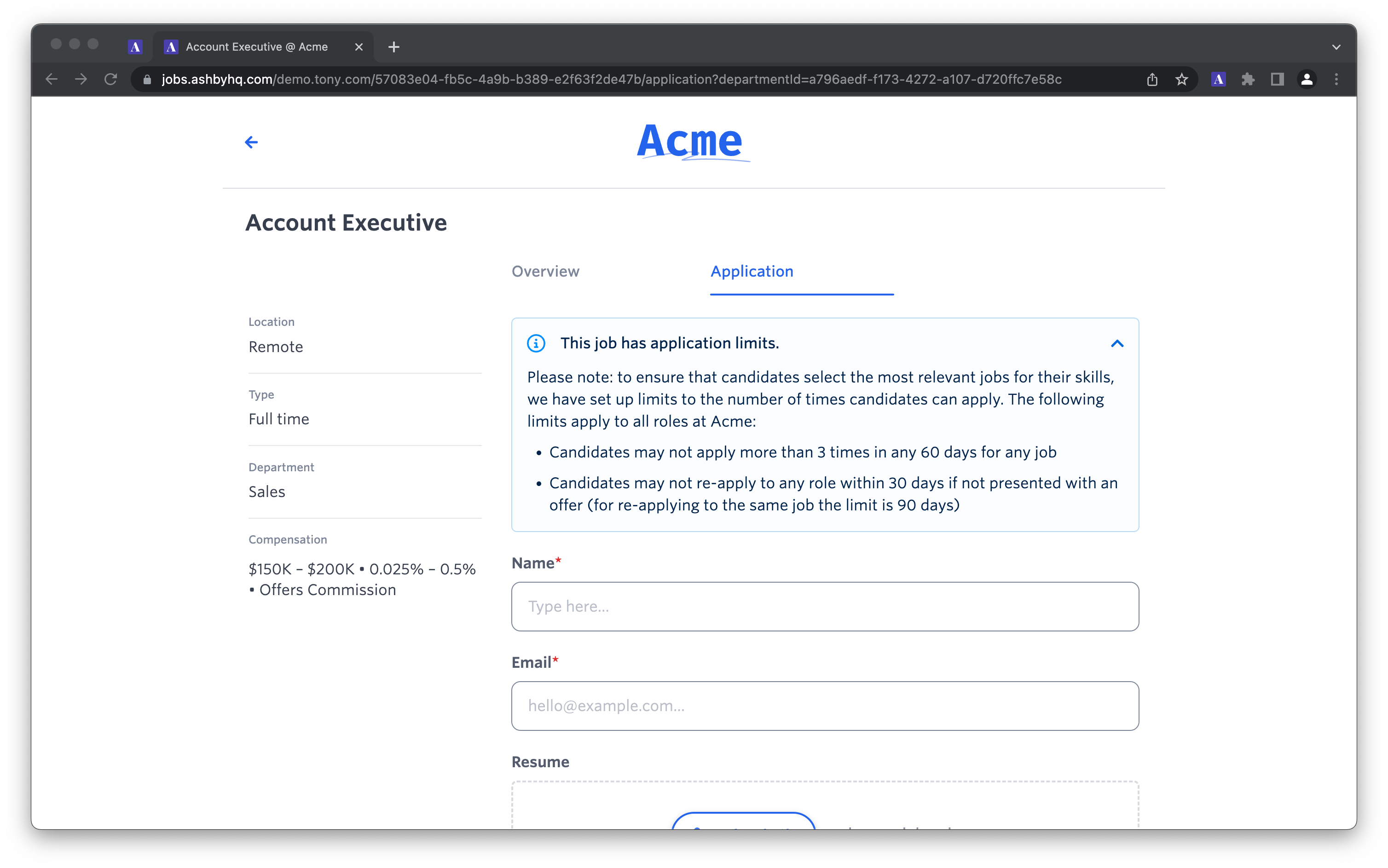 Optionally, you'll be able to show a message to the candidate if they reach any application limit you've set for a given job.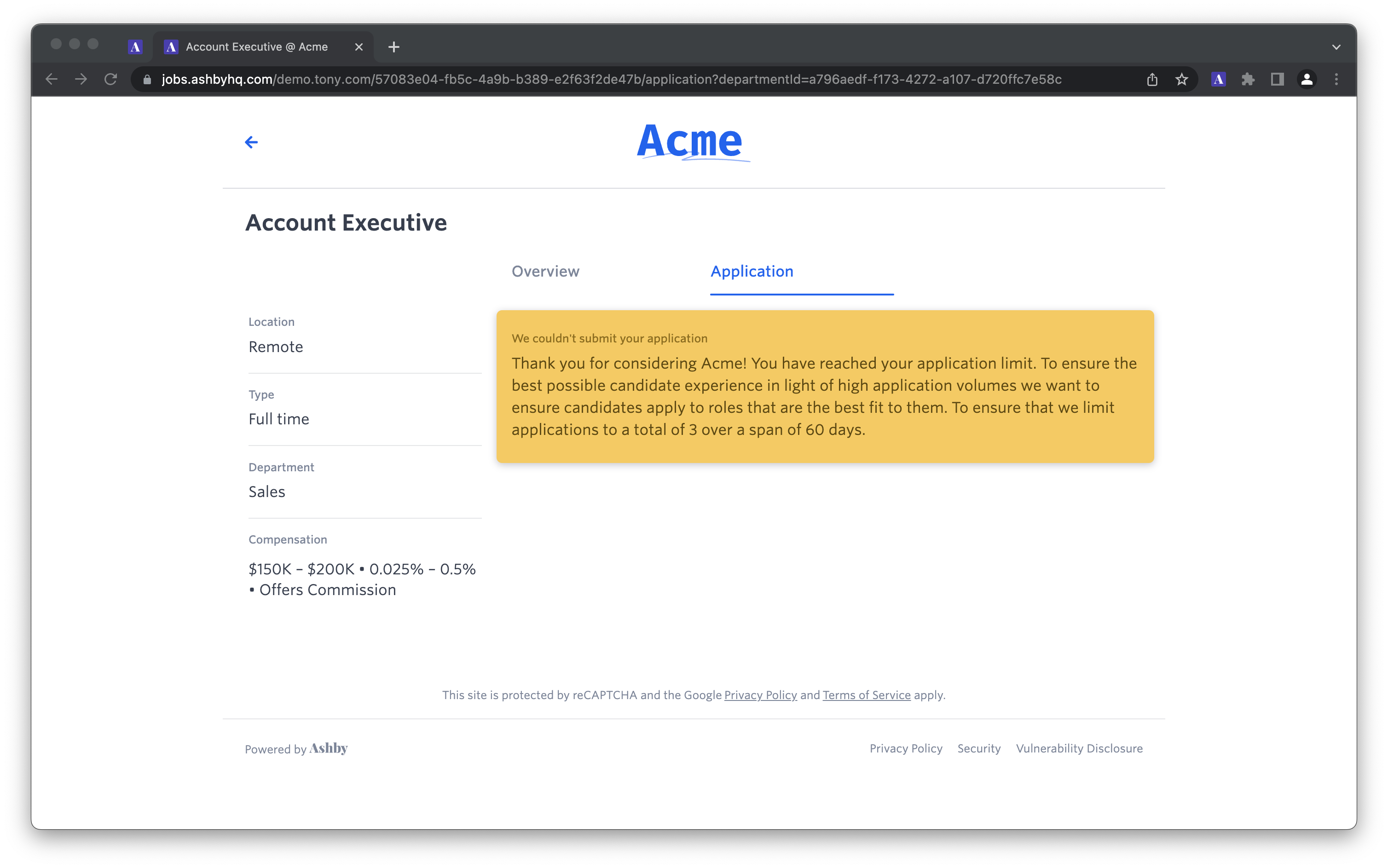 This transparency takes the guesswork out of the candidate experience and reduces any out-of-process follow-ups you might receive from candidates.
Ashby will show you which applications have been blocked based on the rules you set up, providing you a clear audit trail across your jobs.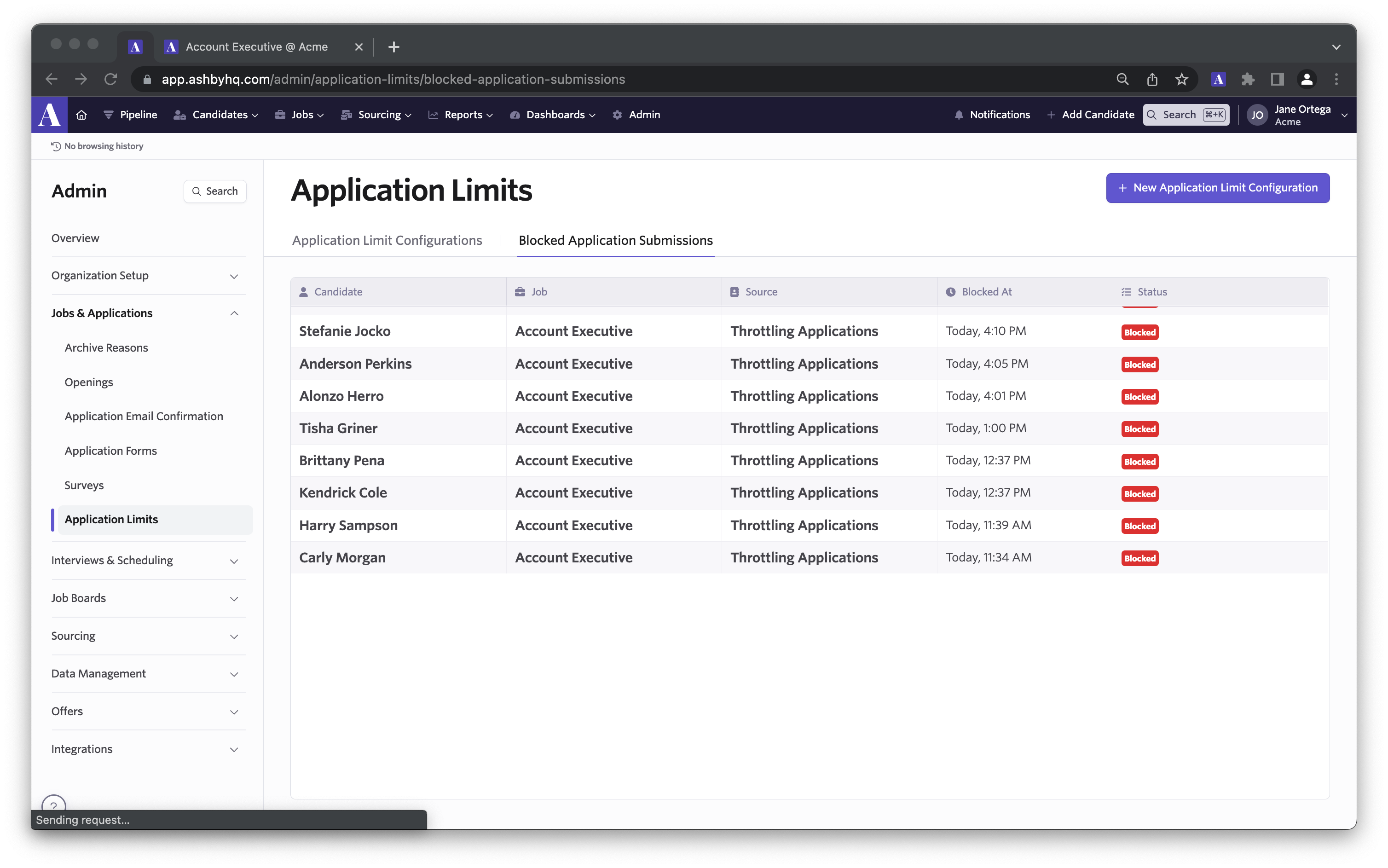 The new application limits feature helps your recruiting teams operate with greater efficiency by eliminating time-consuming and redundant application review, especially as inbound applications trend towards a higher volume. Your data stays clean by keeping unintended applications out of your reporting and analytics. Candidates will know what to expect as part of your application process, providing them with a better experience.
If you're already using Ashby, get started by visiting application limits in the admin view. You can read the full documentation at Ashby University. You can also book a demo with us if you're finding it hard to manage inbound volume and are interested in using Application Limits in Ashby!