Scheduling Updates: Minimum Availability, Two-way Sync, Interviewer Preferences, and more
We're excited about several scheduling improvements we've made in Ashby over the last few weeks. We're constantly listening to our customers to deliver features that optimize their workflows and enable them to be more productive.
These changes provide new tooling to help you move faster in your day-to-day scheduling and introduce a better experience for candidates to submit their availability more efficiently. Check out all the recent scheduling improvements below:
Minimum days of candidate availability setting
Enforce a minimum number of days candidates need to select when sending their availability. Setting this limit reduces back-and-forth communication delays and streamlines bookings. By default we'll require two days, but you can adjust this number to suit your team.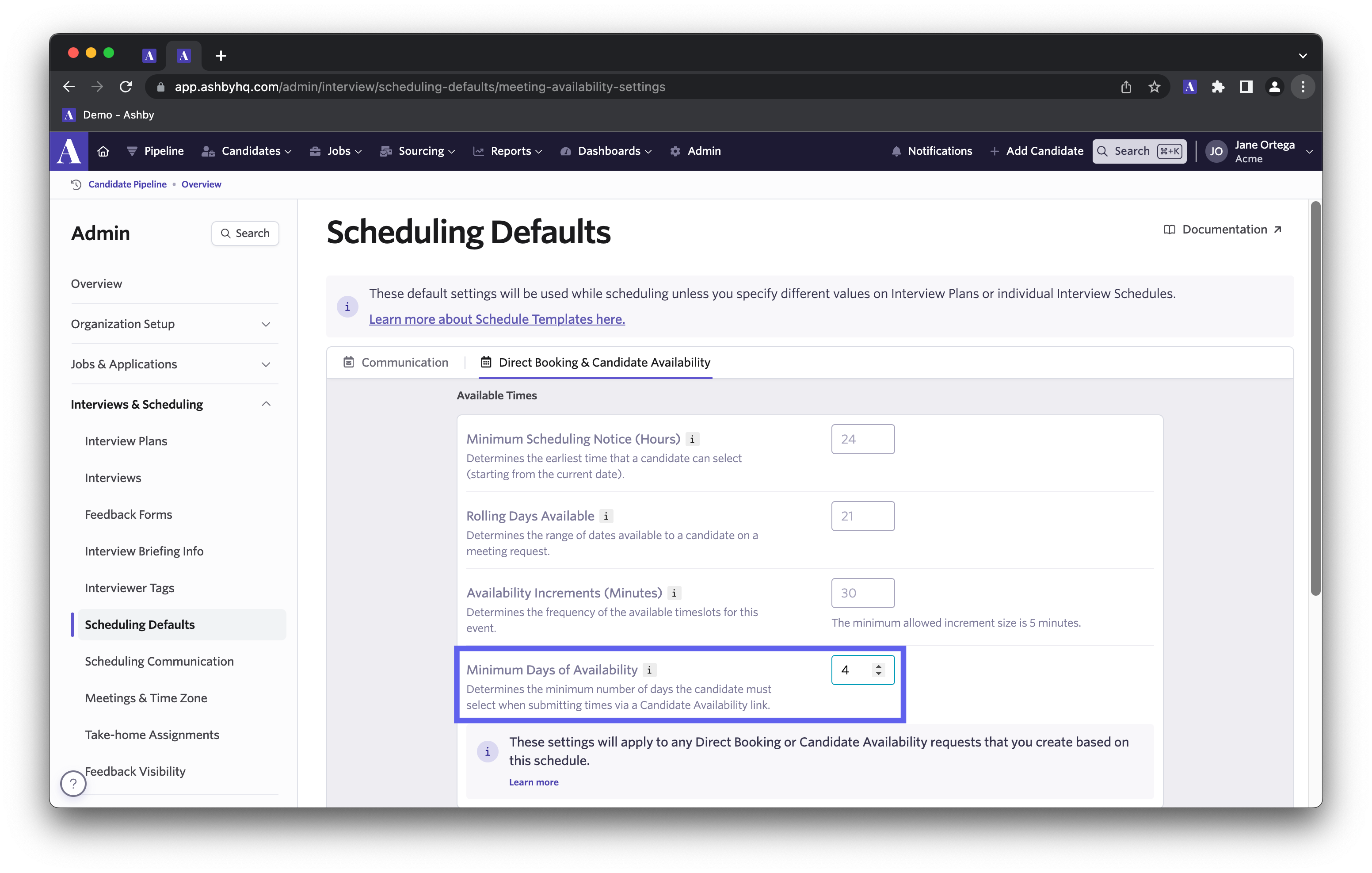 Candidate view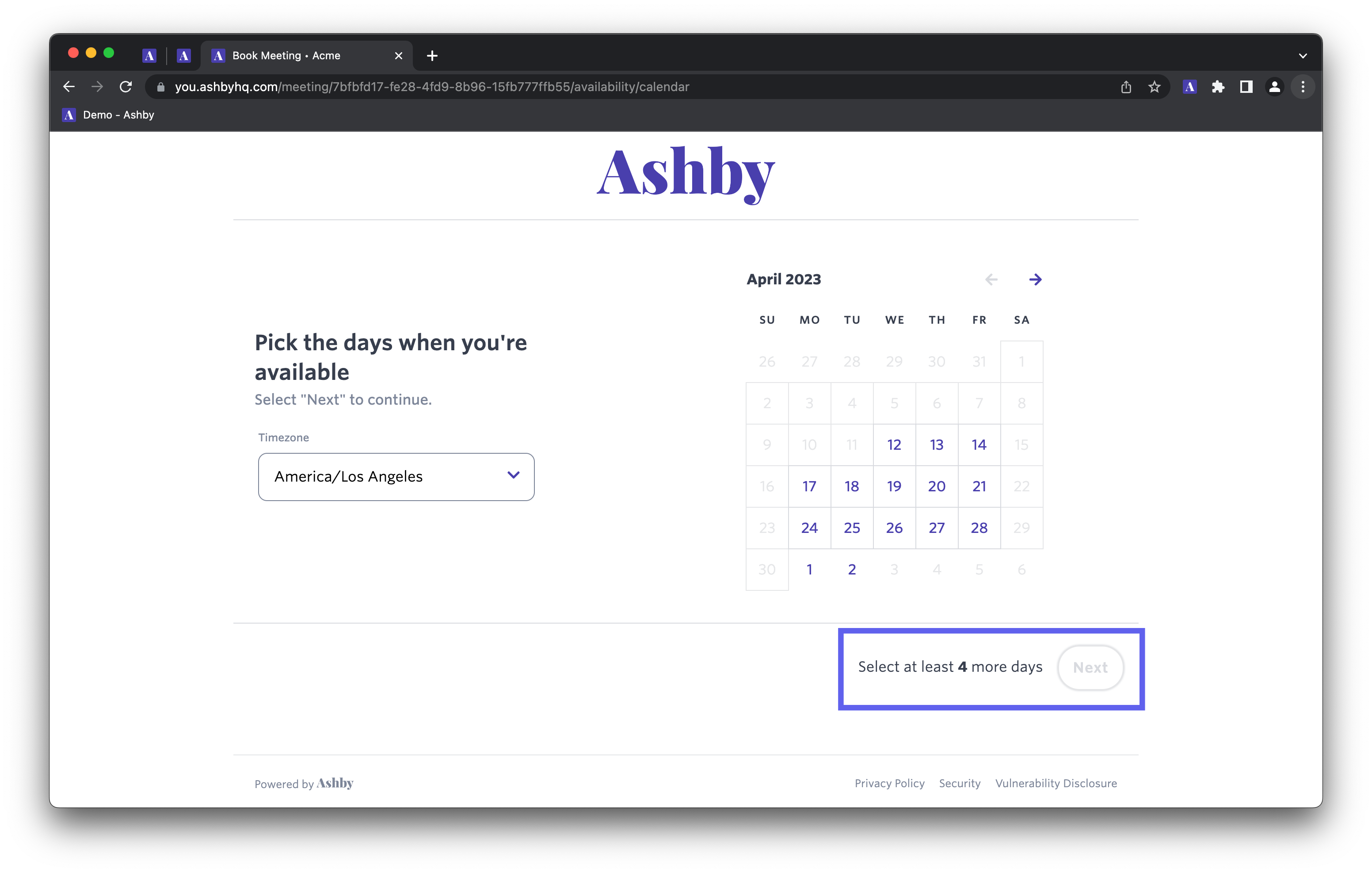 A new availability experience for candidates
Candidates now have a much simpler workflow when sending you their availability. They'll be able to set custom time ranges in fifteen minute increments.
We've also made it much easier to see validations for selecting minimum days and minutes for the interview schedule.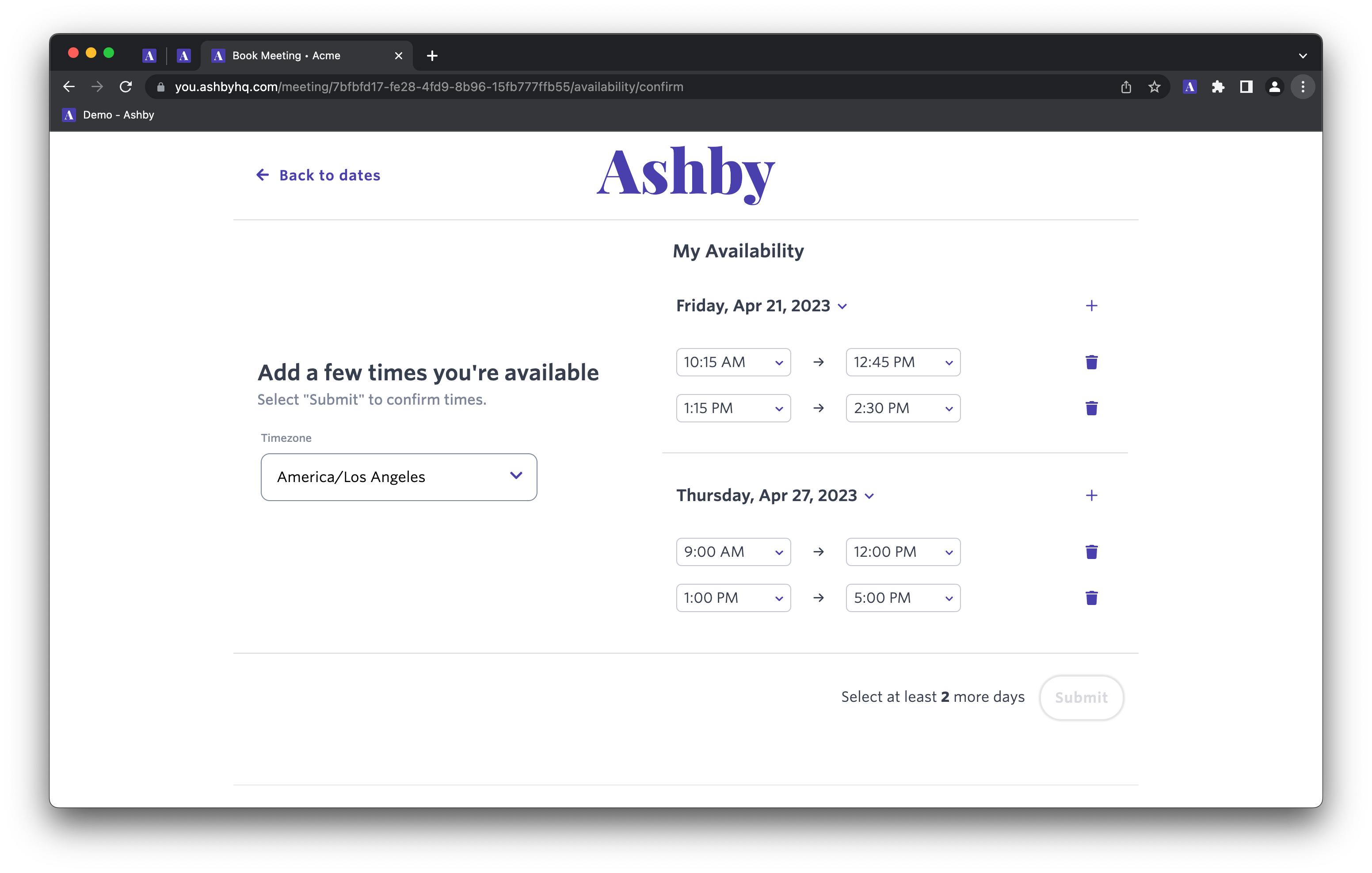 Viewing candidate availability while scheduling
Surfacing candidate availability at the right moment during the scheduling process is the kind of efficiency gain that compounds over time. We've added a number of improvements to the scheduling workflow to help you book candidates faster and keep them moving through your process.
Here's how it works:
A "dot" on the month view indicates which days a candidate has availability. You can easily see candidate availability without searching day by day or leaving the scheduling flow.
The Edit button shown in the date picker is a shortcut to the Candidate Availability page where you can update availability without needing the candidate to submit it themselves.
You'll also see a list of the candidate's availability for the selected month under the date picker. Clicking into any of those days will jump the schedule to that date so you can finish creating the invite.
Two-way calendar sync back to Ashby
Rescheduling an interview from Google Calendar will now sync back to Ashby automatically. New invites will be sent out and the agendas for the meeting will update to reflect the new times so you don't need to go back into Ashby at all. We'll also log an activity feed item of the rescheduling and where it happened.
Interviewer notes and preferences
Employees can now set preferences on the Employee profile under the "Interviewer info" tab to communicate preferences during the scheduling workflow. This will show up alongside the Interviewer load limit providing a full picture of "Interviewer fit" for a particular interview.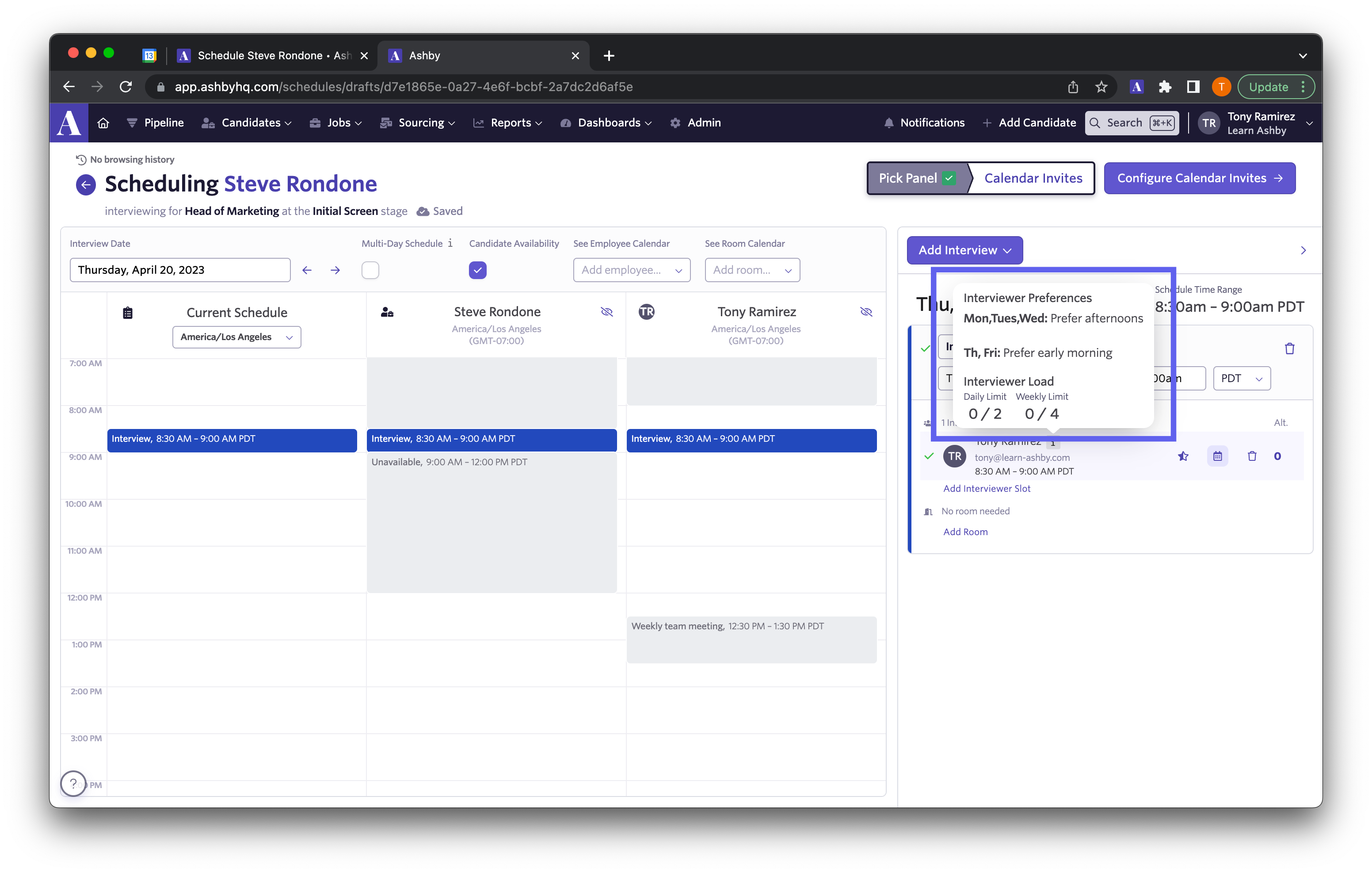 You can also now click on an existing event to surface more details about interviewer availability to help make a truly informed scheduling decision. This makes it easier to schedule over existing events without having to switch to Google Calendar to review.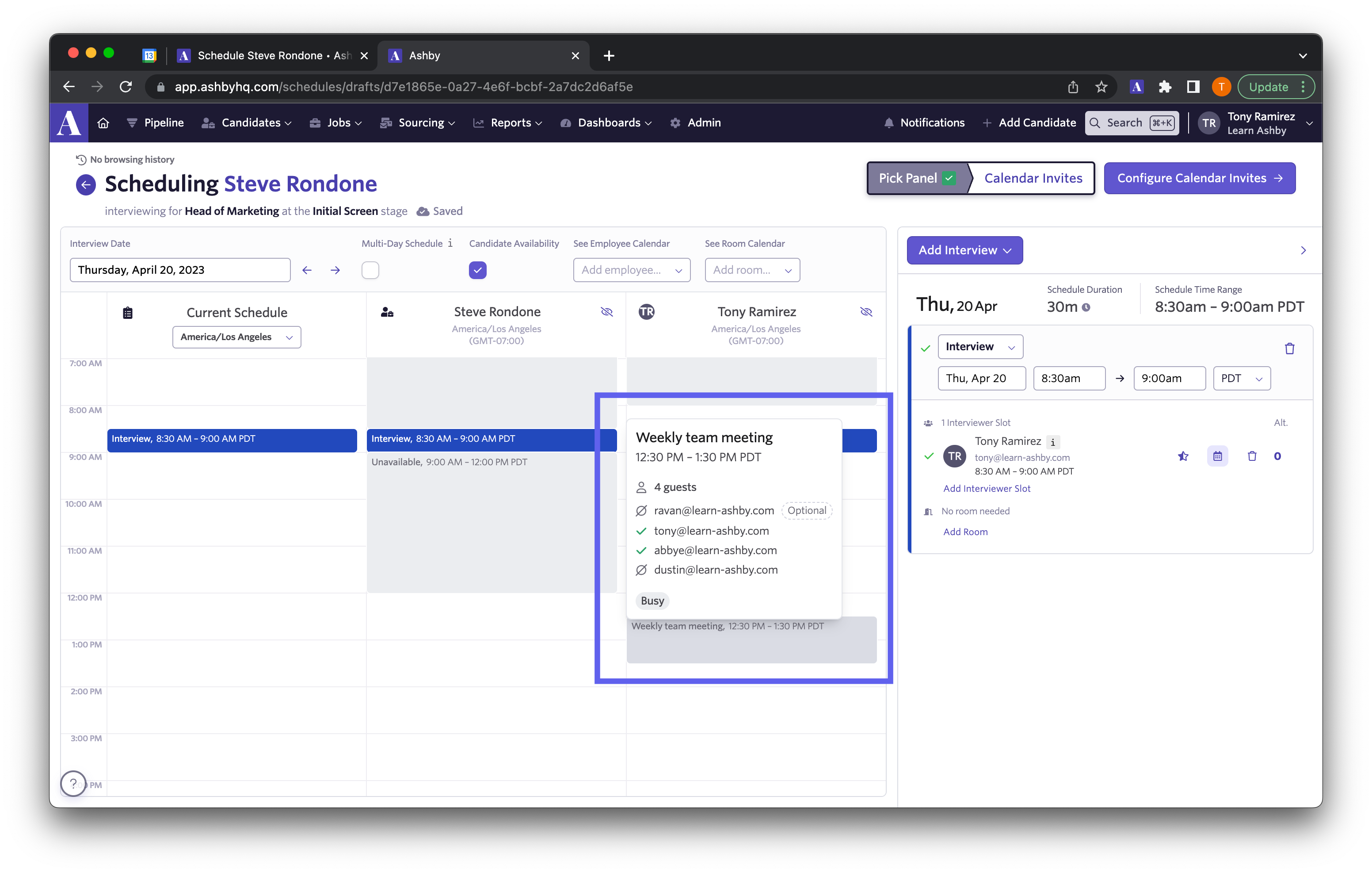 Rolling out soon
Job title and social links (sneak peek)
You'll soon be able to display job title and social links for an interview panel during the scheduling process. When employees set these values on their profile you can then expose them via the Interview Panel Summary token. Here's what it looks like when preparing to send out calendar invites: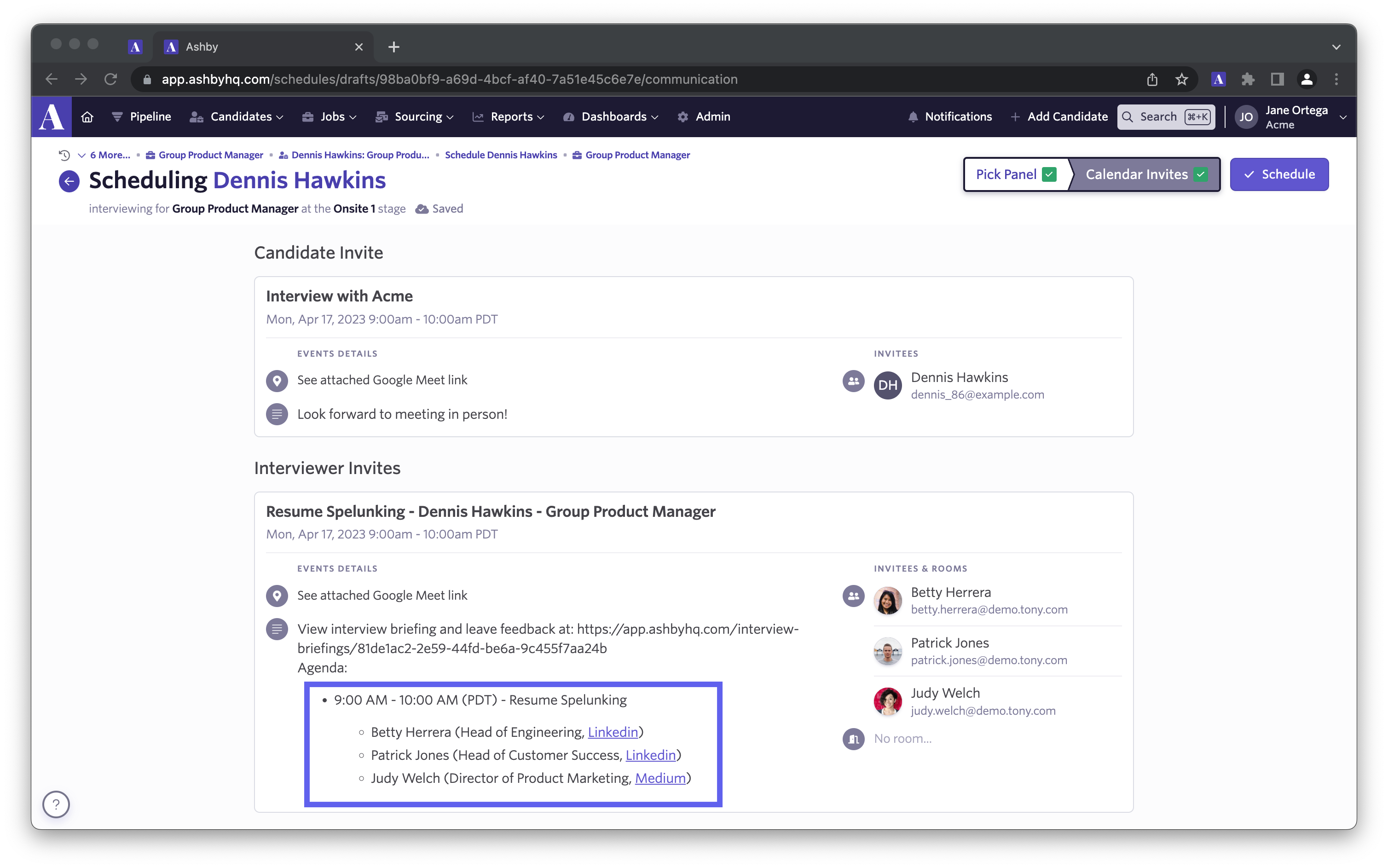 This is a huge time saver for scheduling coordinators that previously had to add this information manually. Candidate's will also see the titles and social links on the direct booking confirmation page.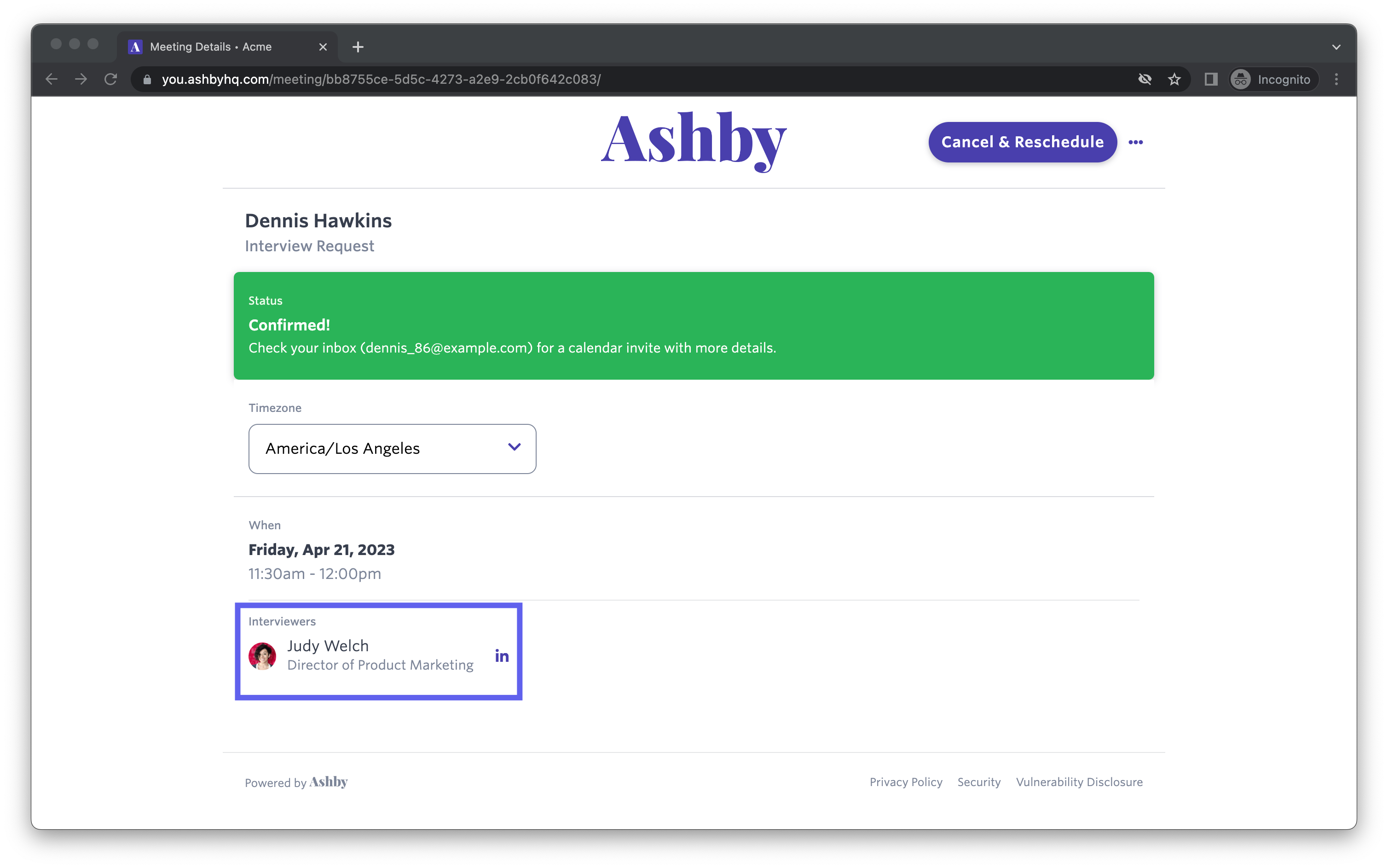 As these changes roll out keep an eye out for new tokens that will become available to use in your templates:
Interviewers name
Interviewers job title
Interviewers social links
Candidate timezone field (sneak peek)
Soon you'll have the ability to set a candidate's timezone directly on their profile. This timezone will be used across all interviews ensuring consistency and discoverability while scheduling. There are a few ways this value can be set on the candidate's profile:
Any Ashby user with edit permission on a candidate can set the timezone manually.
When a candidate submits a timezone via direct booking or candidate availability link, Ashby will save the timezone on the profile to match.
If a timezone is not saved yet, Ashby will infer the timezone based on the location value in a candidate's profile (you can override this).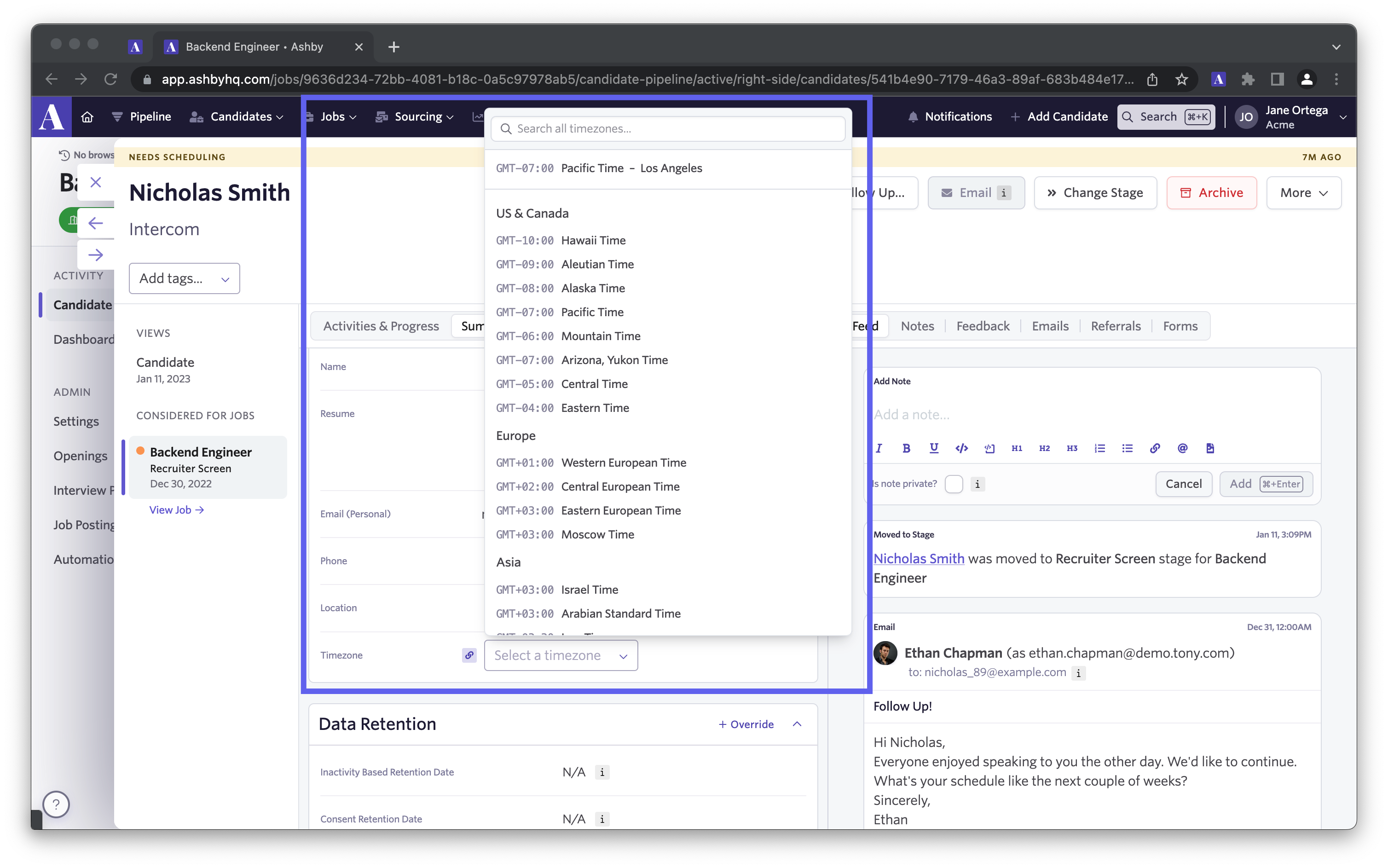 We love hearing from our customers and incorporating their feedback into the product. These scheduling updates help make teams using Ashby more productive and efficient during one of the most critical functions of the hiring process.
If you're interested in using Ashby and these new scheduling features, book a demo with us!