Hiring Excellence | Building An Outreach Strategy With DEI In Its DNA
Shannon Ogborn
RecOps Consultant & Community Lead
Sourcing has a ripple effect on the rest of your recruiting process, touching everything from retention to DEI initiatives.
When I was at Google, I did full lifecycle recruiting with a focus on DEI and found that our inbound applications featured mostly dominant identities. Through this I learned that, if you want a diverse team, it's really important to increase that top-of-funnel market representation through sourcing and outreach. When done well this will increase your pass through rate and lower your time to hire. This isn't a guide to writing your first email sequence; rather techniques for improving the quality of your sourcing and sequencing with a DEI lens.
Developing your sourcing strategy
A powerful, DEI-focused outreach strategy requires four primary steps.
Define your audience
Find your source pool
Build an intentional sequence
A/B test and iterate
These steps are your basic roadmap, the below aims to explore how to build your process in more detail.
Define your audience
To get started, work with your hiring manager to establish the minimum requirements for the candidate. Establishing a minimum requirement doesn't diminish the quality of the candidate but it helps you and the hiring manager focus on exactly what skills the role calls for, and develop a job description and sourcing search centered on the competencies, not necessarily titles or degrees. Doing this will open your search to more diverse candidates.
Find your source pool
With a clear definition of your candidate profile you can begin sourcing. LinkedIn is great, you need to be using it, and Ashby can save you a lot of time sourcing there with the Chrome extension. But building more than LinkedIn into your sourcing strategy is essential.
Talent hides in all sorts of places. And non-traditional places present a great competitive advantage for finding diverse talent.
If you're wondering where to look, check out Ashby's Top 20 "Less Obvious" Spots to Source as a starting point.
Build an intentional sequence
Once you have a good pipeline of candidates we suggest building a three part email sequence. In developing your sequence, put thought into both what you want to say and how you want to say it. For these messages, you should ensure you have the following details:
Message one:
Why you are reaching out to this candidate
Why the candidate would enjoy working at your company
Key details about the role: location, salary, what they would work on
Message two:
Should be a shorter email that summarizes the above quickly
Email should come from hiring manager or peer vs. recruiter (this is easy to do in most ATS CRMs – including Ashby)
Email should link to relevant article about culture and business success, here's an example we often use on cultural norms.
Message three:
Sent at least one week after initial email and follows up on previous messages
Address why now is the right time to consider role
Ask for any feedback or role or company and if recruiter/hiring manager can reach out in future if now is not a good time
Just like there's screening-in and screening-out, as you are building this sequence consider how you can further personalize the content to feel directly relevant. This can be scaled with modern CRMs, and in Ashby can be done with tokens.
Use intentional language in outreach sequences
Beyond personalization, look at the words you're choosing.
A prior company of mine did internal studies about sourcing outreach and language. In one study, a team used expansive language, discussing planetary-scale problems and saving the world. Another team used smaller-scale, realistic language. The first group had a lower response rate, especially with underrepresented groups. Polarizing words can trigger imposter syndrome; you end up seeing a lower response rate and people feel more intimidated by the opportunity instead of excited about the opportunity.
Here's an example of a great outreach: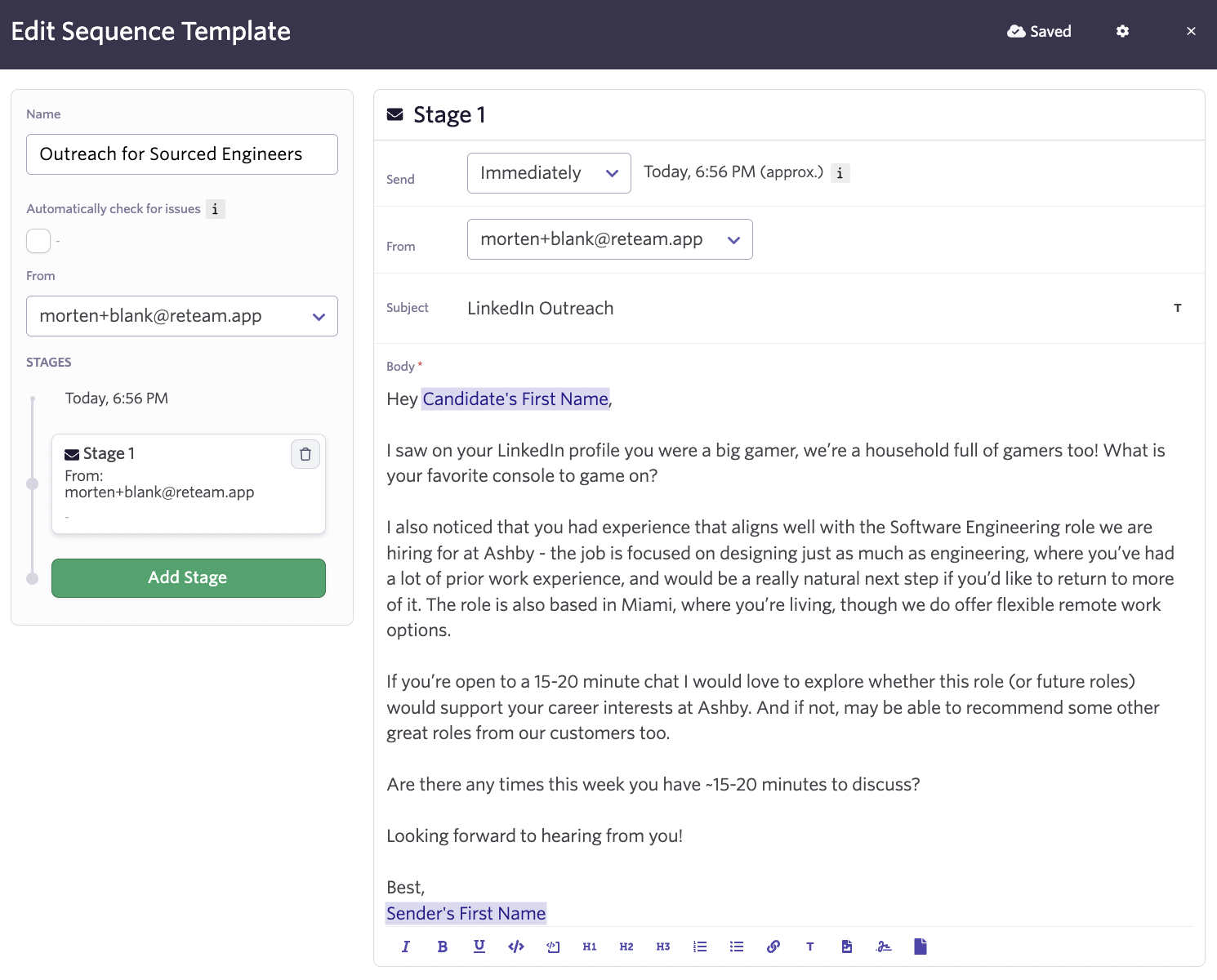 Here's what makes that email good:
It has light personalization. It's not hard to find something to grab something from a profile (school, location, hobbies, etc.) that helps you make a connection. Humans respond well to be treated like humans, not numbers!
It calls out where they align with the role - ie. Why are you reaching out to them?
It shows care for their career and aspirations. Most people enjoy talking about what they are looking for, and when they know you're taking that into consideration, they're more inclined to talk to you. It also creates the feeling of inviting a discussion rather than sending spam.
The message tells the candidate how much time you're asking from them, up front.
Now for a weak outreach: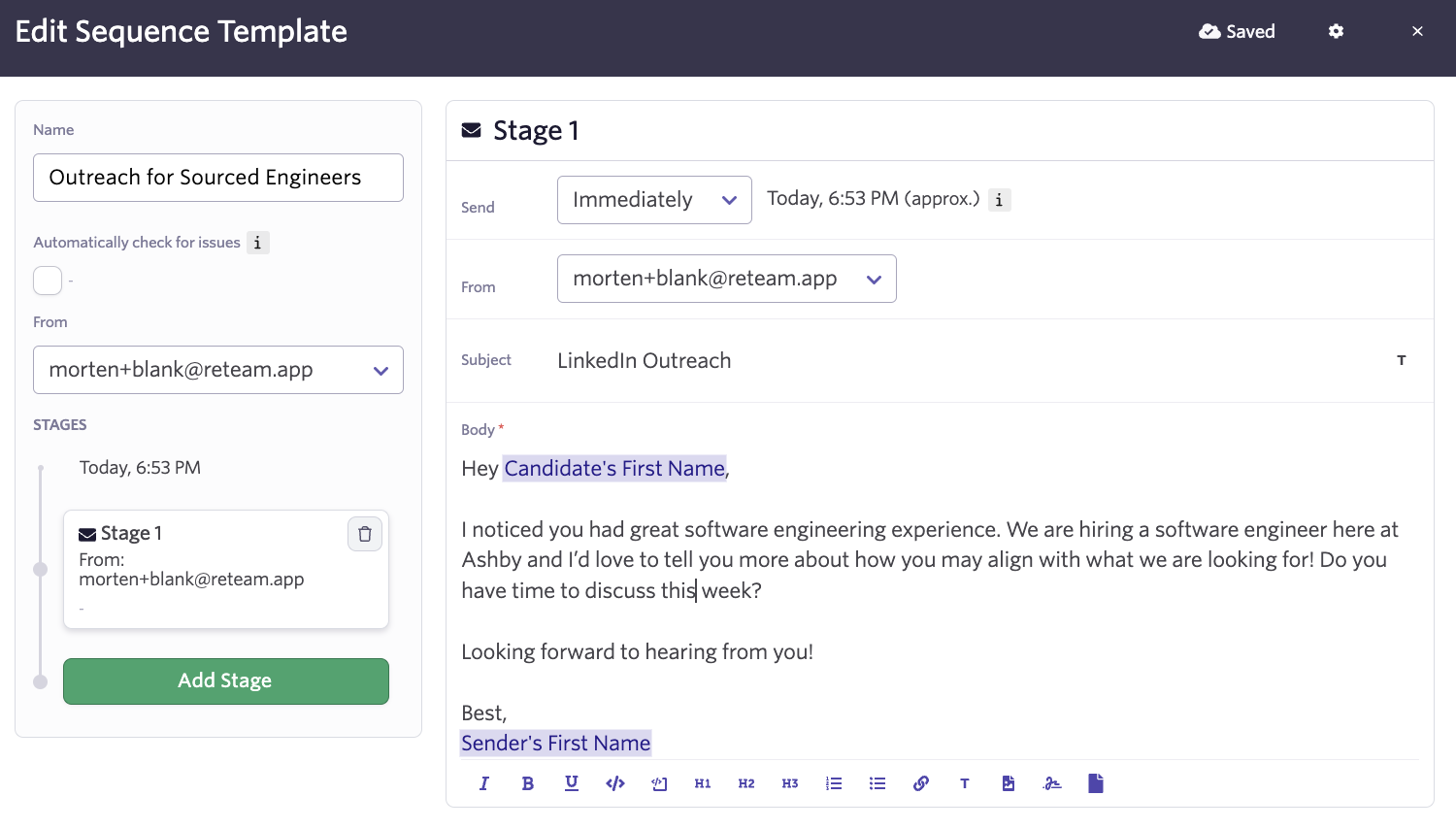 Here's why this wasn't great:
It primarily focuses on what the candidate can offer the company. It feels like there's nothing in it for the candidate.
There's no specifics on why they are a match, no personalization, and no humanization. It feels robotic and impersonal.
It's lacking in the details you'd want to know (like time to talk) if the candidate seriously wanted to fit a meeting into their schedule.
Each part of the language you use in your first sequence matters. Consider it carefully before you press send.
A/B test your sequence
Your initial sequence is important, but so are the subsequent ones, and you should run testing.Tools like Ashby make it easier to see the results, but you can run A/B tests without any tools.
Some areas to A/B test:
Time of day – Send batches of emails by time (morning, noon, and evening, always off from the hour) and track the results by looking at deliverability, open rates, and response rates
Subject lines – Test different subject lines; the more specificity, the better
Value propositions – Try being upfront about your exact benefits or compensation vs. letting that information out later
Length of message – See if a short introduction interests candidates, or if they want more details upfront
Sourcing locations – The same message that lands great on GitHub may not be a winner on LinkedIn
Level of personalization – Some people may respond great to having their hobbies or social media called-out, while others might prefer you to keep it strictly professional
When you're building sequences, make sure that you're conscientiously testing the language and looking at the results. This isn't an "if it ain't broke" kind of situation – you can always be improving, even if you're already doing well.
Having the information to test, evaluate, and retest is a very important aspect to sequencing - it allows you to see how much your language matters.
Using data for calibration
With a good basic sequence in place you should then use these additional metrics to calibrate as you go. The key metrics to consider are:
Open and response rates - Open rate is important, but if you have a high open rate but a low response rate, that tells you much more than the open rate alone. It is likely that your subject line is strong, but the body of the email doesn't resonate. Focus on the body.
Pass through rates - How many people did you reach out to and how many converted to candidates and passed the initial hiring manager screen? Here you should be double clicking on the rejection reasons and adjusting your search accordingly.
Stage reached by source - This is my favorite type of report to build. It shows you the quality of different sourcing efforts in a very obvious way. If my sourced candidates are making it further than inbound or referred candidates, I know my strategies are working. It also helps me plan for the future - if a given role is typically filled with inbound applicants and we see high quality and good representation from the inbound, I know I don't need to focus as hard on sourcing for that role, and if there is a specific source that works really well, I'll start there next time.
Underrepresented Groups in Pipeline - If you're making a solid effort to have a DEI-centric outbound recruiting strategy, make sure that you're seeing your pipeline composition reflect that. If it doesn't, you may need to alter your sources or messaging.
Candidate feedback - Beyond numbers, track what people are saying in their candidate feedback survey responses. Look at your overall NPS, but more importantly at the comments.
Add candidate tabs and set alerts – The very first person I reached out to when I was at Google started interviewing a year after my first contact. Because he said he was open but not right now, so I made a note of that and came back to him later when another matching role arose. If I'd written him off as a rejection, I wouldn't have filled that later role with such low effort. Setting alerts in your ATS is a way to make this process easier.
Take this data back to your hiring managers to add qualitative data to this quantitative information. They'll help you make sense of why areas of the pipeline might have outliers in their pass-through rates and spot anomalies in the data. They'll also help you find issues in candidate feedback and help you brainstorm how to fix problems. Qualitative and quantitative data do their best work together.
DEI-focused sequencing fosters inclusiveness and innovation
What we used to think of as "playing safe" in hiring is now being recognized as shutting out great talent. A high barrier to entry at the top of the funnel keeps amazing people out of your team. If everyone is thinking the same way, you can't drive innovation and invite the highest quality of work possible.
Luckily, outreach is the very first place that can help with that. By sourcing a wide array of diverse and talented people, you can fill your talent pipeline with competitive, complex talent who will truly make your team stand out.
Trying to find the best possible candidates? Check out these other great articles:
And download Ashby's less-obvious sourcing guide - totally free, no email required.