Recruiting Operations | Internal Mobility
Definition and Benefits of Internal Mobility Programs
With economic changes and layoffs, more companies are discussing starting or revamping their Internal Mobility Programs and strategies. Internal mobility is the movement, both vertically and laterally, of employees within an organization.
This article approaches the development of an Internal Mobility Program from the RecOps' perspective, covering considerations, principles, and key questions. It will also provide you with a holistic framework for thinking about the program.
These programs can offer a lot of benefits like:
Increased employee engagement and satisfaction
Improved retention
Cost savings
Amplified diversity and inclusivity
Aligned employee and company goals
A well-developed Internal Mobility Program is a win-win situation for employers and employees. Employers can save recruiting costs and training time, and employees can grow their careers without leaving a familiar environment. That said, implementing an Internal Mobility Program involves changes to processes, systems, and even company culture.
We'll start with a breakdown of stakeholders to be mindful of, common questions we hear from RecOps leaders when developing an Internal Mobility Program, and a practical guide for how to address these questions.
Stakeholders to keep in mind
Depending on the company's size, there may be a specific program manager or team (like Talent Development) that handles internal mobility. However, if your company isn't large, the program might fall under Recruiting Operations.
Other stakeholders:
The internal candidate's current manager
The internal candidate's future manager
HR business partner
Headcount/financial, planning, and analysis (FP&A) partner
Payroll partner
Business unit lead (optional)
Depending on your organization, this could be for headcount approval purposes
Questions We Most Commonly Hear When It Comes to Internal Mobility
Requirement Questions
What counts as internal mobility?
Is a manager change considered internal mobility or something else?
Is it internal mobility only if the employee has to interview?
When does the employee officially get to leave their previous role for their new one?
Will there be compensation changes at the time of transition or a specific cut-off?
Is the candidate allowed to negotiate their salary?
Who is responsible for informing the previous manager?
What happens if the current manager finds out that their employee is looking to move and becomes retaliatory?
If an internal candidate shifts teams, does the old manager get the new manager's headcount?
Are these types of backfills guaranteed?
Eligibility Guideline Questions
Will everyone be allowed to apply?
Whose responsibility is it to determine eligibility?
What are the expectations and SLAs between teams?
Can an internal candidate interview for a skip-level role?
If the candidate gets the role, will they be moved into that position or will it need to be down-leveled or up-leveled?
If the move isn't lateral, does it need to happen at a specific time (e.g. promotion cycle, payroll cut-off date)?
Interview Process Questions
Should the internal candidates follow the same process as the external candidates?
If there are specific interviews (e.g., Bar Raiser, Culture), are they needed?
When should the internal candidate inform their current manager that they're interviewing?
Candidate Experience Questions
Will candidates receive detailed and actionable feedback?
If yes, who provides it to them (e.g. Recruiter, HR, the HM)?
If not, what will you do instead to keep the employee engaged?
Job Announcements Questions
Will you announce when jobs are opened so interested internal candidates know to apply?
If yes, where will those announcements be?
If not, why not?
Is there going to be a period, before the role is posted publicly, where only internal employees can apply?
Referral Program Questions
Can employees refer other employees?
If they do, are they eligible for a referral bonus?
Training Questions
Do you need specific interviewer training regarding how the interview teams will interact with the candidate?
Do you need specific training for employees so they know how to apply for internal roles based on the system requirements?
ATS Questions
Does your ATS have an internal job board and, if so, does your company intend to use it?
If the candidate interviewing has admin access to the ATS, what steps must be taken to ensure the process remains impartial?
Whose responsibility is it to merge the candidate profiles if there is an issue in the application process?
Interview Coordination Questions
Does there need to be a specific Recruiting Coordinator who handles all internal candidates?
Are the Recruiting Coordinators ensuring the process is confidential (eg. calendar invites are set to private)?
Are they ensuring they aren't overloading the internal candidate with interviews during a busy time (e.g. end of the quarter for sales roles, release dates for software engineering)?
Can interviewers abstain from interviewing if they know they are biased?
What should your coordinators do if the candidate reaches out directly to them?
Data Questions
What are the key metrics for determining if your program is a success?
---
How to Address the Questions through the RecOps Lens
Requirement Answers
It's essential to define internal mobility clearly, since usage differs between TA and HR. The visual below articulates what should versus should not be considered internal mobility.Because there's no one right way to define internal mobility, this acts only as a guide.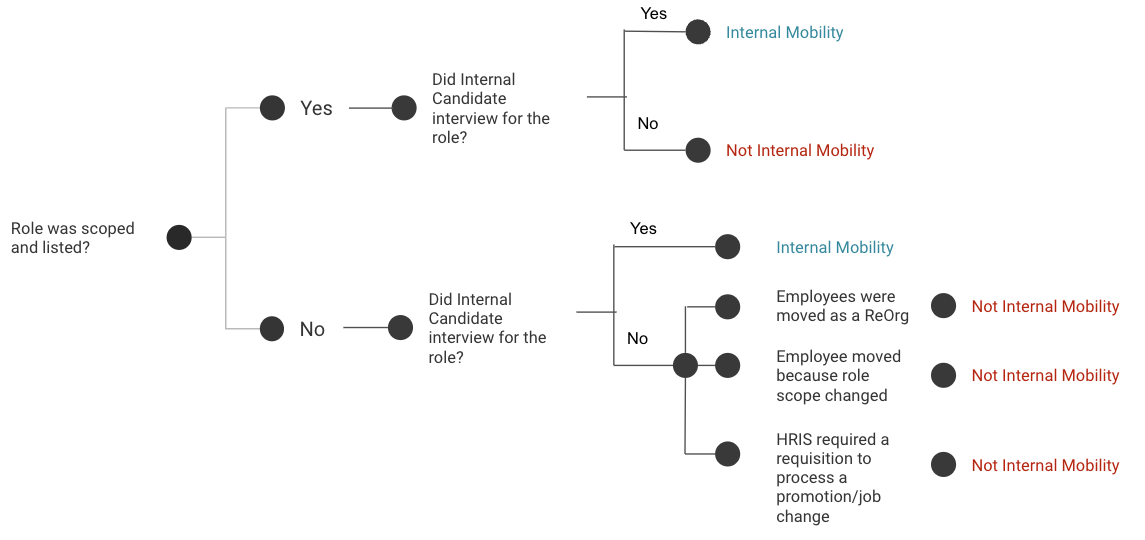 After the internal candidate accepts their offer, the following dates are important to keep in mind:
Payroll cut-off date: This is important to align their change in the system with payroll dates to ensure any compensation changes are accurate.
Role cutover date: When employees transition to a new role within the same company, it's important to ensure a smooth and effective transfer of responsibilities. However, it's not uncommon for them to get pulled back into their old projects or be slow to embrace their new role. To avoid this, it's essential to set a precise cutover date and have a discussion between the current manager, the future manager, and an HRBP. By doing so, we can ensure that the employee is fully committed to their new responsibilities and that the transition is seamless.
Managers or Business Leads may take departures personally or believe they own their teams, overlooking that everyone is a company employee and this move is in the company's best interest. This mindset often is one of the biggest causes of conflict and opposition to an Internal Mobility Program. If conflict does arise, it's important to involve the HRBP to handle any disagreements.
Have a discussion with anyone involved in the headcount process (i.e., FP&A, Business Unit Lead, HRBP, etc) to determine how internal transfers will be counted. Headcount, especially if limited, will always be a common point of contention. The team will need to come to an agreement on the following:
Is backfill headcount guaranteed?
Is there a headcount trade between the two managers? (Example: The new manager gets the internal candidate and the old manager gets the headcount. FP&A will likely say this is net neutral and not care but the Business Unit Lead and HRBP may bring up business changes that would justify it not being a trade. Depending on how you do headcount management, this can also be impacted)
Eligibility Guidelines Answers
Internal candidates should be with the company for a minimum amount of time (i.e. 6 months, 12 months, etc.) before they switch teams unless an exception is made. This will help ensure that people have joined the company for the right reasons.
HR should be informed if there are internal candidates in the process and, likewise, HR should inform Recruiting if they know of any possible employees looking to move internally. HR should also verify if an internal candidate is eligible to transfer (e.g. they are not on a PIP) and the SLA for that confirmation should not exceed 2 business days. If an internal candidate is ineligible to transfer, then HR should have that conversation with the internal candidate. Under no circumstance should an internal candidate not hear back about their status.
Leveling in Internal Mobility Programs can be a hot-button issue, as internal candidates may apply for roles without realizing their or the role's level. While some companies allow internal candidates to interview for skip-level roles, others require candidates to know the leveling and possible adjustments (e.g., salary, bonus structure) beforehand to make an informed decision. This complexity makes it crucial to discuss with the Recruiter, HRBPs, and FP&A teams, as it can impact costs and headcount
Interview Process Answers
The internal candidate process should mirror your external candidate process incorporating appropriate modifications when possible. For instance, a Bar Raiser/Culture interview is likely unnecessary. While they should still have an interview with the Recruiter, the length could be adjusted to be more efficient, such as 30 minutes instead of 45 minutes.
In a perfect world, internal candidates would inform their current manager that they are interviewing internally. However, depending on their relationship with their manager, they may hold off on telling them. Your level of discretion should match their preference. You should also encourage the internal candidate to discuss a plan, should they accept the new role, with their HRBP for how they should inform their current manager and facilitate a smooth transition.
Candidate Experience Answers
The fact that someone is already employed at the company should not diminish the quality of their experience compared to an external candidate. It is even more essential to take extra care in managing their candidate journey, to safeguard their privacy, and to ensure that they maintain a positive impression of the company.
In my view, it's important to give internal candidates actionable feedback if they're not selected for a role. This helps them to grow and develop, which is great for both the employee and the company. Ideally, the feedback conversation should involve the internal candidate's current manager, HR, and the team manager who interviewed them. This is also a perfect opportunity to promote a more relaxed learning experience, such as an 80/20 style program or an internal project between teams. These programs allow employees to learn new skills in a more practical setting, which can be a lot of fun too! Ultimately, this kind of support shows that the company is invested in the employee's development, and it can foster a positive and motivated company culture.
Job Announcements Answers
Make sure you spread the word about new job openings internally! Many of your coworkers may not actively be searching for new opportunities, so they might not know about a new position until someone is already hired. Sharing the news through email, Slack, an all-hands meeting, or any other means that works for your company is a great way to encourage people to consider internal options before we start looking outside.
Referral Program Answers
Referral programs in the past tended to focus on rewards for external candidates only. However, there are benefits to rewarding employees for referring internally such as creating more open dialogue between employees as well as transparent conversations about career goals. That said, there is no one correct answer to this topic; it's worth having an internal conversation and aligning with leadership on principles guiding overall internal mobility and referrals.
Training Answers
In your interview training, you should include steps that interviewers must be aware of when interviewing internal candidates. During the pre-brief/role opening meeting, you should also remind interviewers of what to do if they're interviewing a candidate. This doesn't necessarily have to be live every time but creating a one pager that can be distributed is particularly helpful.
You will need to train employees if the ATS you use necessitates that they apply through the internal job board. If you are talking about your referral program and doing a demonstration of how to refer a candidate during new hire orientation, you can also discuss how to leverage the internal job portal and apply, as many ATS' put those buttons close to one another.
ATS Answers
It's important to understand how your ATS processes internal candidates, since it can impact data and candidate profiles. For example, Workday can struggle to merge or connect profiles if the internal candidate decides to apply through the external portal, which can cause certain flags not to appear usually. By understanding the whole picture, you will be able to get ahead of certain issues and design specific training or documentation that should be shared company-wide for how to apply internally to roles.
Some ATS' may automatically trigger an exclusion so that internal candidates with admin-level access are unable to see their scorecards while others may not. To avoid this issue for those that don't, consider temporarily adjusting the internal candidate's permissions. If this would directly impede their work then having a conversation with your legal department to define the internal candidate's limitations and consequences for breaking trust is a must.
How Ashby Solves This:
Asbhy has sophisticated internal mobility capabilities and I would recommend it for RecOps Managers assessing an ATS on its capability to support an Internal Mobility Program.
Ashby supports internal job boards which can be enabled in Admin, and then become accessible for any job posting.
Ashby allows you to post internal and external jobs at different times. This means you can early release roles to employees.
Additionally, you're able to configure newly open roles to appear in internal Slack channels as well as company-wide emails.
When an internal candidate applies through the internal job board, the "Source" for their job consideration will be "Internal Job Board."
When candidates apply via the internal job board, their job consideration/candidate profile is automatically linked to their user profile and they can't ever view information relating to that job, regardless of their access level.
When internal candidates apply via the external job board, their profiles can be linked manually. Once linked they'll be unable to view information connected to their candidacy, regardless of their access level.
Interview Coordination Answers
Set calendar invites to private to protect the candidate's privacy.
Allow interviewers to opt-out if they can't be impartial; if necessary, discuss with the hiring manager to find a replacement.
Reconfirm with interviewers that the process is private and not to discuss with other employees.
If the candidate contacts the RC, coach the RC to redirect the candidate to the recruiter or HRBP.
Data Answers
By tracking internal candidate applications, you gain access to new information. First, it will tell you the health of the program. If the numbers are low, it might mean people are unfamiliar with the program or they're happy in their current roles. If the numbers are high, it could be positive (e.g., cool internal opportunities, employee engagement) or negative (e.g., departmental politics or poor managers). It will be up to you to find the reasons behind your numbers.
Key metrics to look at can be:
Number of internal applicants (by quarter, year)
Number of internal hires (by quarter, year)
Common decline reasons for internal candidates
Unique internal candidate applications
Average last stage for internal candidates
Department to department transfers (i.e. # of people leaving one department for another)
Key details to consider:
Some internal candidates may apply to multiple roles. You will want to keep this in mind if you choose # of internal applications as one of your success metrics.

If you work for a company that consistently undergoes reorganizations, choose the department at the top of the hierarchy to prevent confusion in calculating the Department to Department Transfers.

You will likely want to create new tags or reasons that can be tracked (i.e. Hired - Internal Transfer, Open - Backfill (Internal Transfer))

Best ways to visualize this data include Line Graphs, Pie Graphs, Funnel Metrics, and Data Tables
How Ashby Solves This:
Ashby is a great tool for measuring progress and impact of internal mobility programs, which can be achieved through their Analytics module (included in Ashby All-in-One). Once built, dashboards update automatically and can be customized to the relevant audience. This means they will see the metrics you are tracking (e.g., # of internal candidates currently in process, month over month).
When looking at the overall health of your program you'll want to pay attention to the number of internal candidates, the types of roles that get the highest number of internal candidates, and the teams people leave from and go to. These metrics might help you uncover trends that are shareable between Talent Acquisition, HR, and Business Leads, making you a more strategic partner.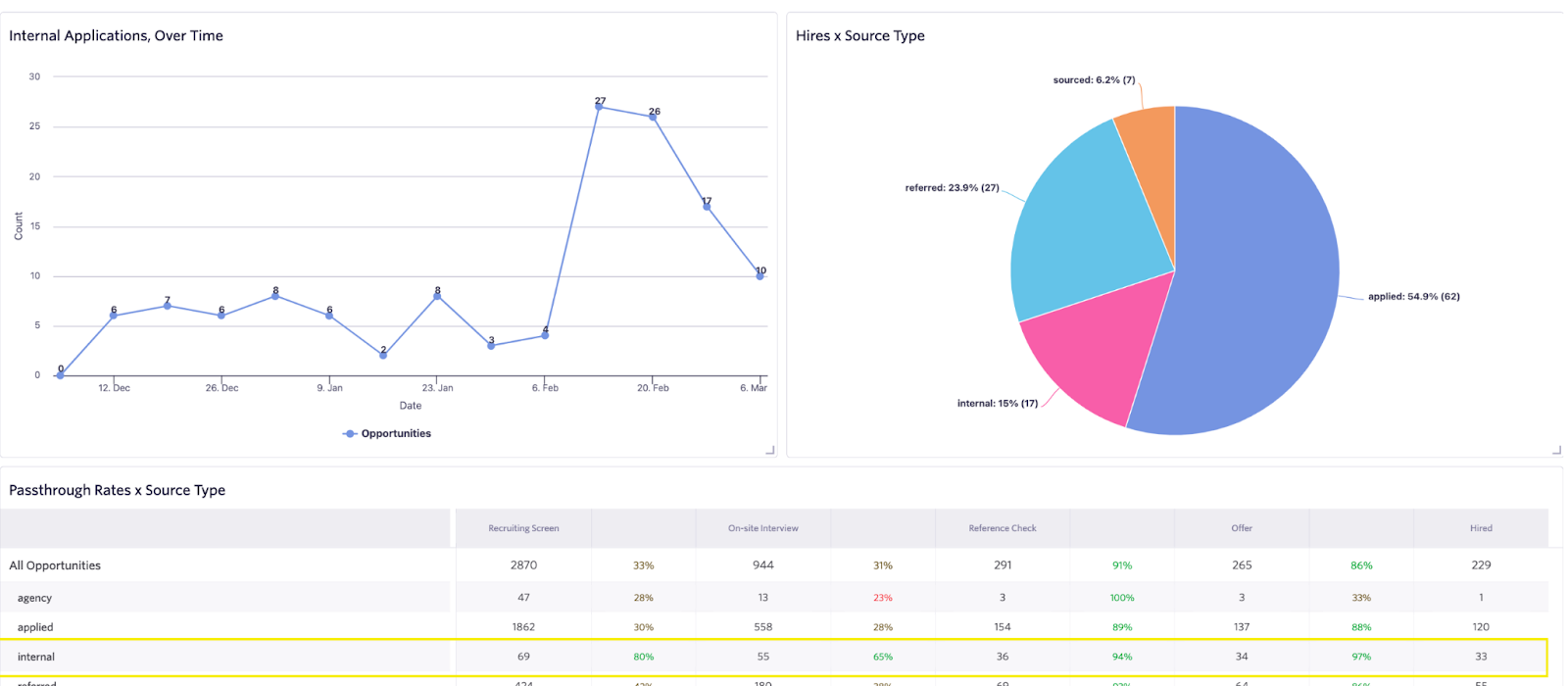 Best Practices for Internal Candidates:
Internal candidates expressing interest in a role should have a screening chat with Recruiter or Hiring Manager to decide if there is a potential role fit
If the internal candidate chooses to proceed, they should share their interest with their existing manager.
If the internal candidate is offered the role – Both the current and future manager should work with the candidate and HR to develop a transition plan.
If the internal candidate is not selected, the hiring manager and existing manager should work with the recruiter and HR to provide detailed feedback to the internal candidate.
Final Considerations
This list is by no means exhaustive, but does give a clear idea of the amount of intricacies involved in an Internal Mobility Program if you are asked to run one as a RecOps professional. Having a successful Internal Mobility Program can provide a range of benefits to both employers and employees. However, implementing such a program requires careful consideration and planning to ensure that it aligns with the company's goals and culture.
The RecOps team plays a vital role in this process and must ask the right questions and provide the appropriate guidance to ensure its success. By addressing the questions outlined in this article, RecOps can provide a robust framework that can help increase employee engagement, improve retention, and make better use of existing talent, all while saving recruiting costs. Additionally, RecOps should ensure a positive candidate experience by determining clear eligibility guidelines, exercising discretion when coordinating interviews, making pronounced job announcements, clarifying requirements, and providing adequate training.
A successful Internal Mobility Program requires everyone's involvement, and RecOps can help drive its implementation and success by working collaboratively with all stakeholders.
If you're in Recruiting Operations and want to ask questions or share feedback on your Internal Mobility Program, join the Ashby RecOps Community by applying here.