New Integration: Two-Way Syncing Between Ashby and Workday
We're excited to announce a new integration that brings you a reliable, bi-directional sync between Ashby and Workday.
By connecting Ashby and Workday you can:
Sync Workday Job Requisitions as jobs in Ashby
Sync Workday Positions as openings in Ashby
Push candidates hired in Ashby back into Workday
When building this integration we made sure to solve for a lot of the problems recruiting teams have experienced in the past when connecting an ATS to their HRIS.
Current problems with legacy ATS and Workday integrations
Long implementation timelines: Traditionally, you'd need to hire an outside consultant to build out this type of integration. It can take several months before having something you can actually use.
Upfront and ongoing costs: These third-party consultants often have high upfront costs to build, and maintenance fees to manage the connection.
Poor visibility into issues: If the integration has issues it's challenging to diagnose and fix anything without the initial consultant. This can lead to a loss of data integrity and manual work to reconcile ATS and HRIS data.
Compromised workflows due to limitations: Unfortunately, recruiting teams can also find themselves adjusting their hiring process to fit the limitations of the integration.
A better way with the Ashby and Workday Integration
With this in mind we focused on three key areas to help teams with this critical integration point.
Fast implementation
Where most custom integrations with legacy ATSs take 6+ months, we've been able to get customers integrated in just a few weeks. Easily configure high-level settings and rules for how data should move between the two systems.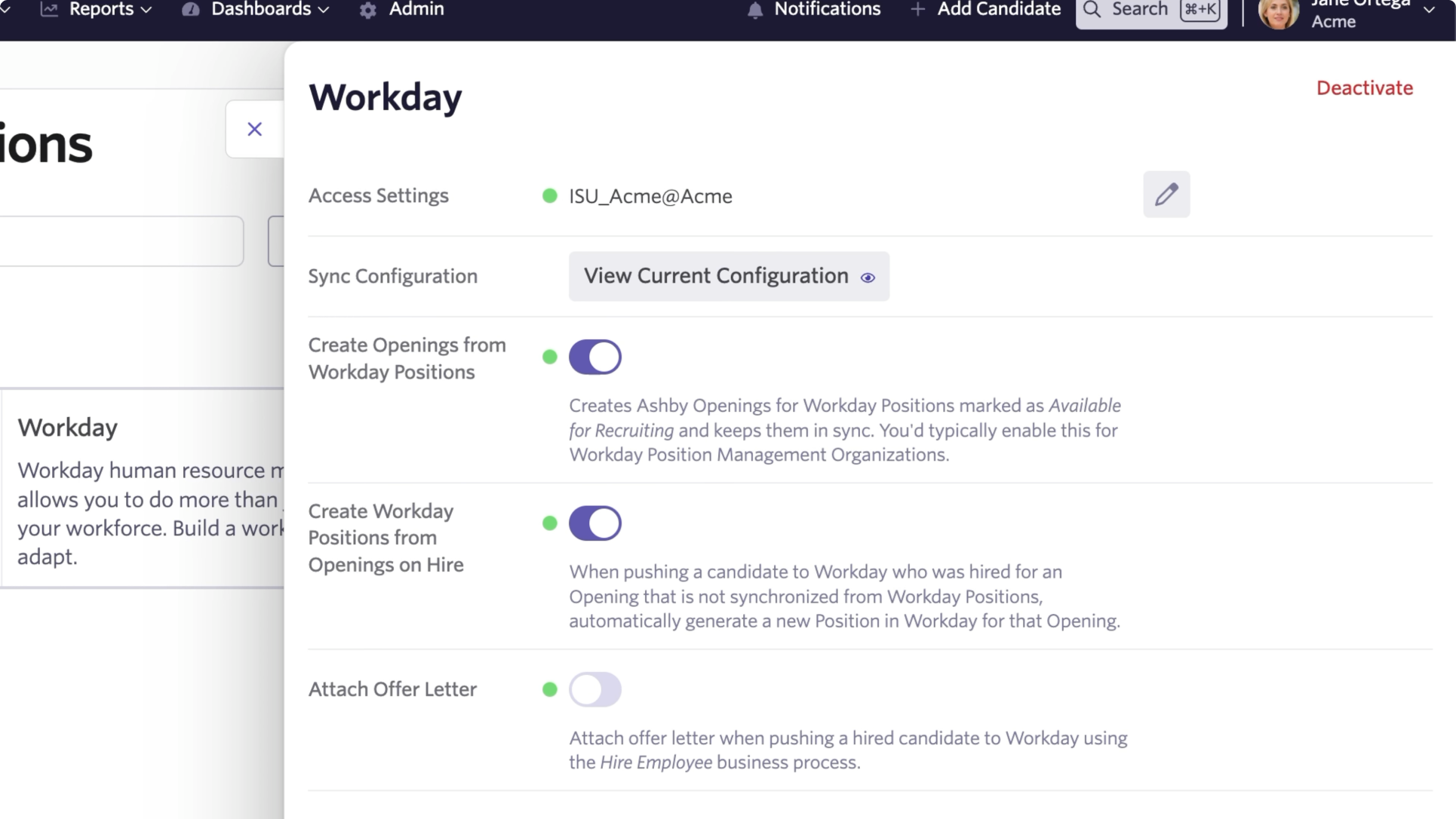 Toggle settings for creating Ashby openings and Workday positions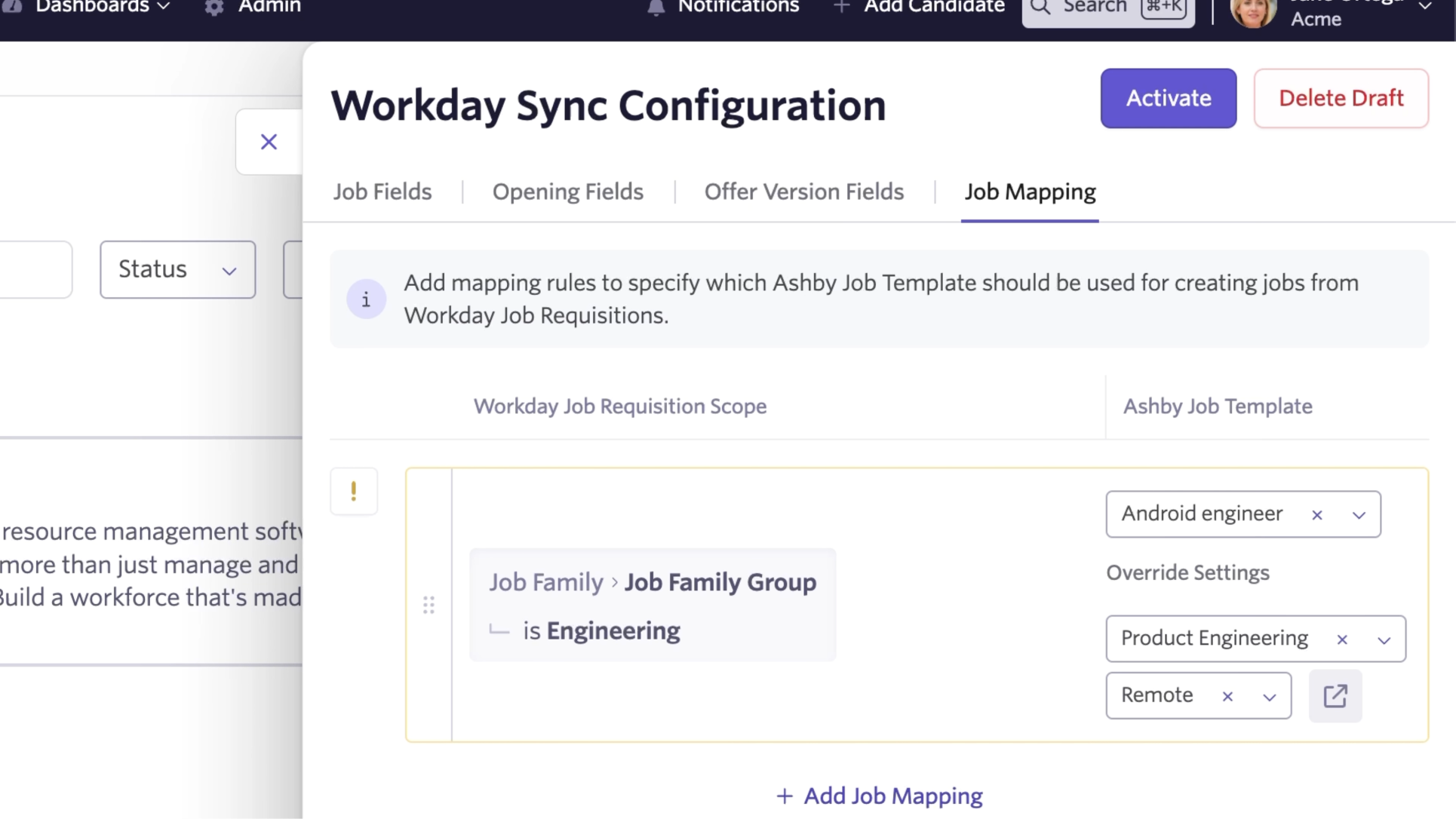 Automated rules for determining how jobs are created in Ashby from Workday Job Requisitions
Self-serve, real-time, and high data integrity
Our connection is API-based which allows us to continually refresh data and easily surface any validation errors. It also means you don't need to hire any external consultants for setup and ongoing maintenance.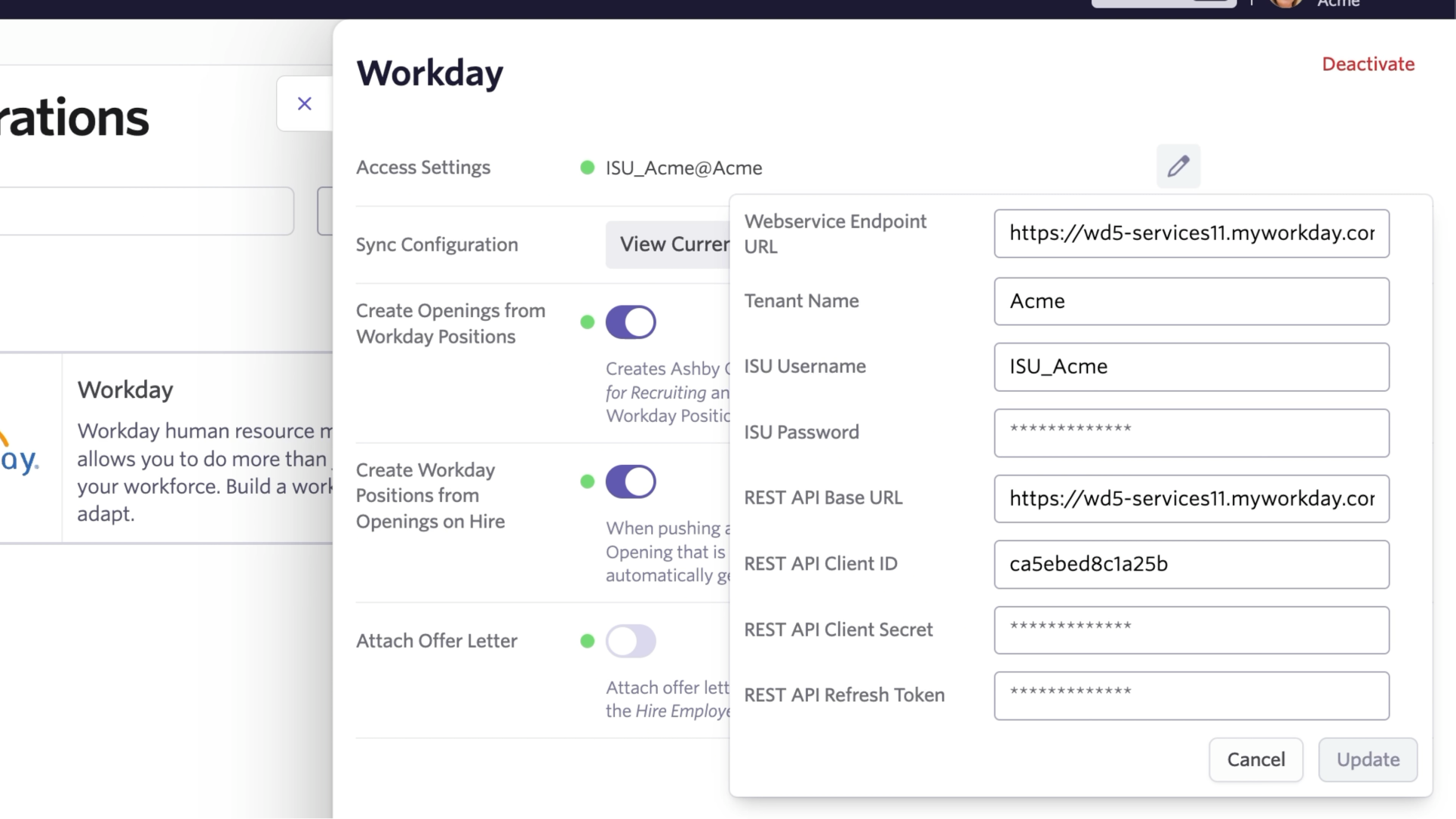 Control your Ashby connection to Workday in-house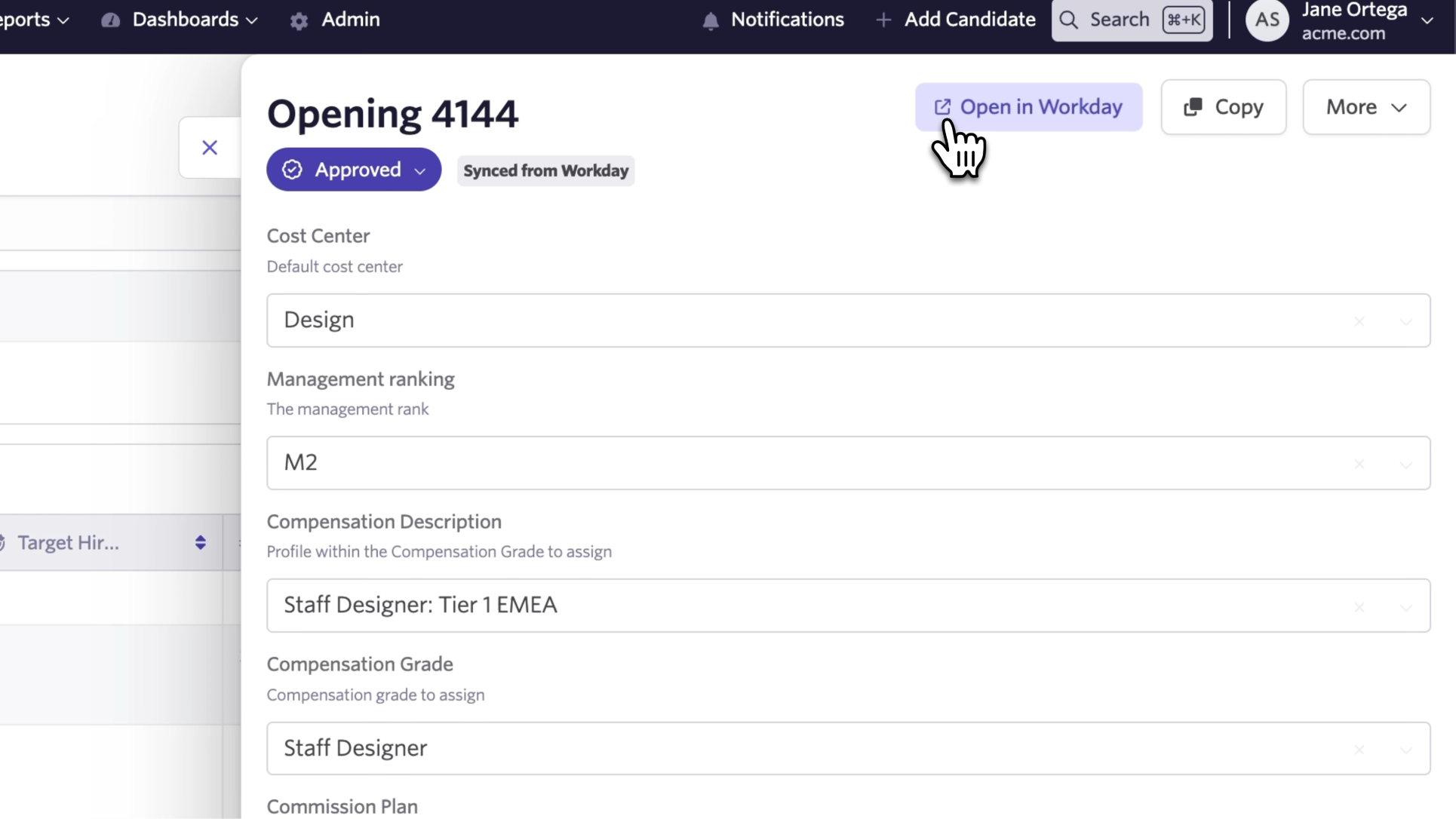 View read-only data from Workday in Ashby and easily link back to Workday
Highly customizable
And finally, we wanted to provide highly customizable options for moving data between the two systems. You can choose exactly how you want to sync Workday Job Requisitions and Positions into Ashby, and what details should be sent to Workday.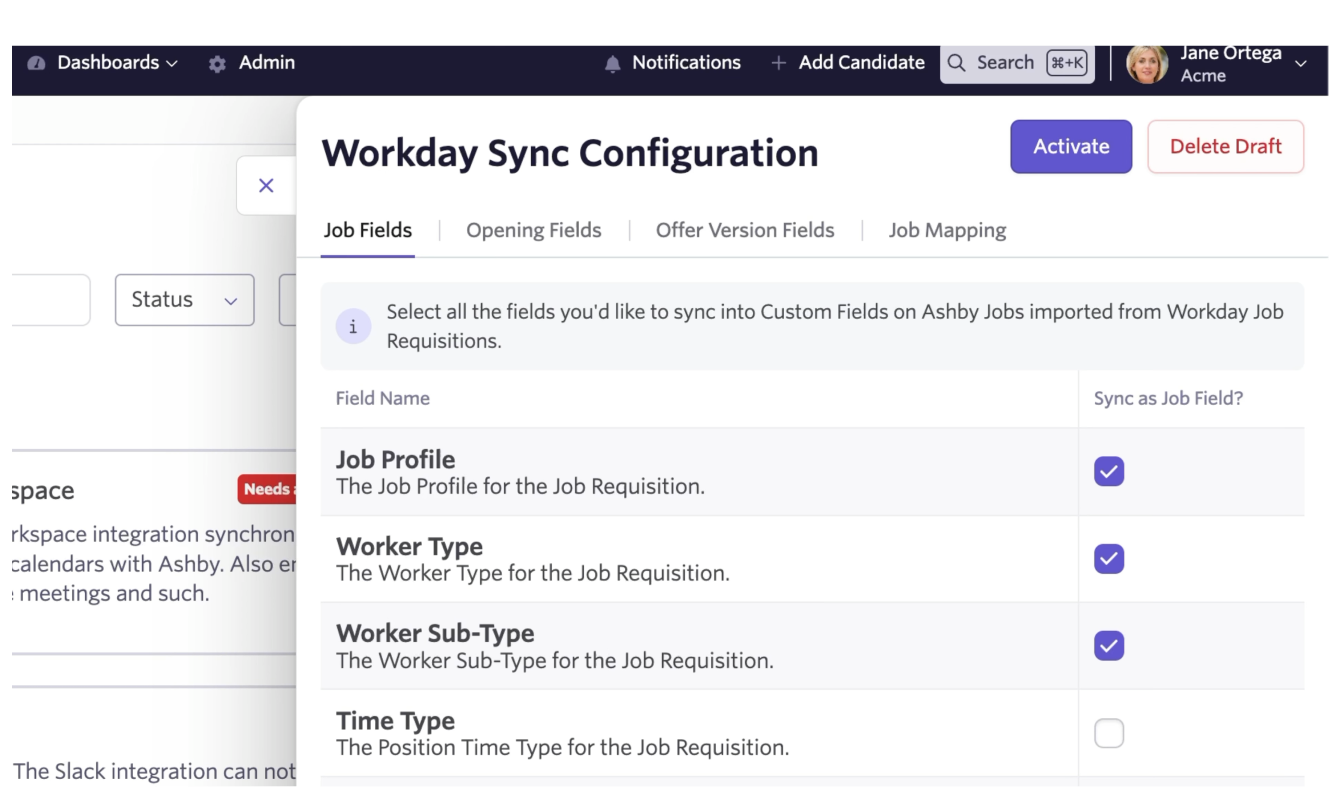 Select Workday Job Requisitions fields that should be synced to Ashby jobs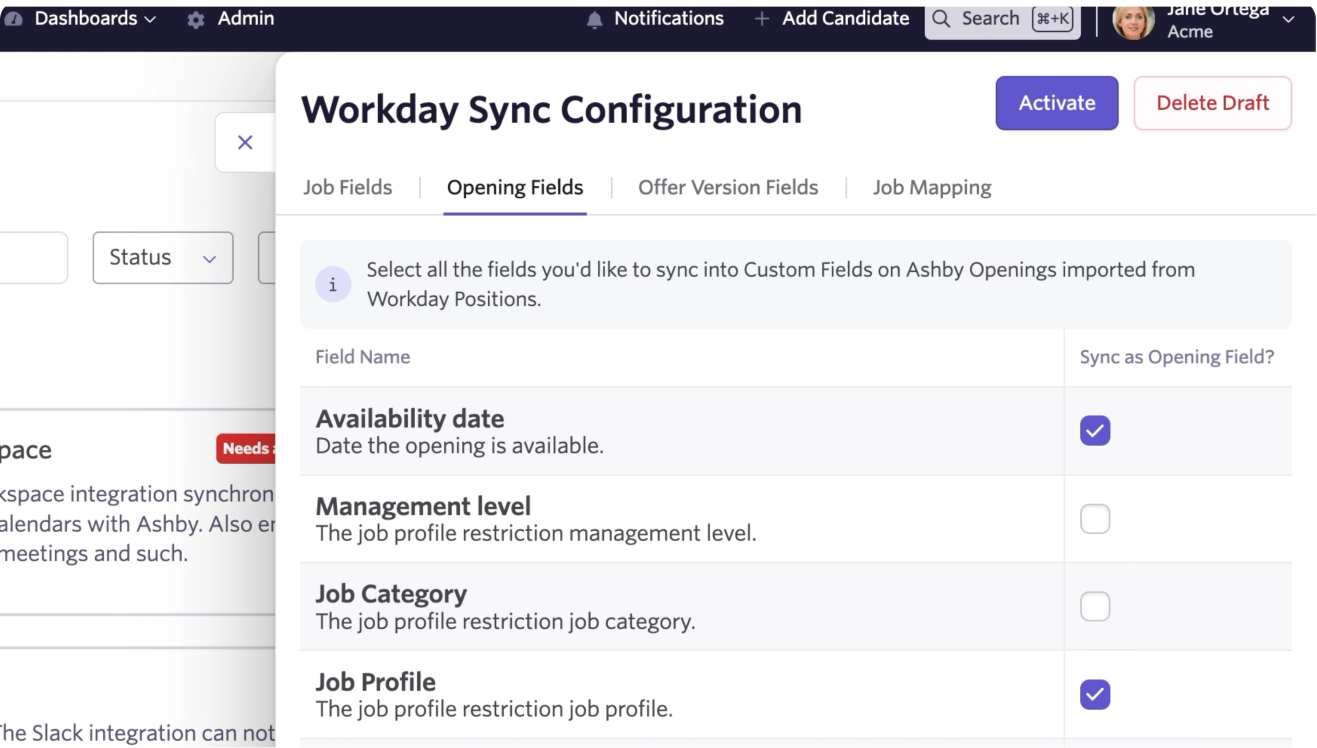 Select Workday Position fields that should be synced to Ashby openings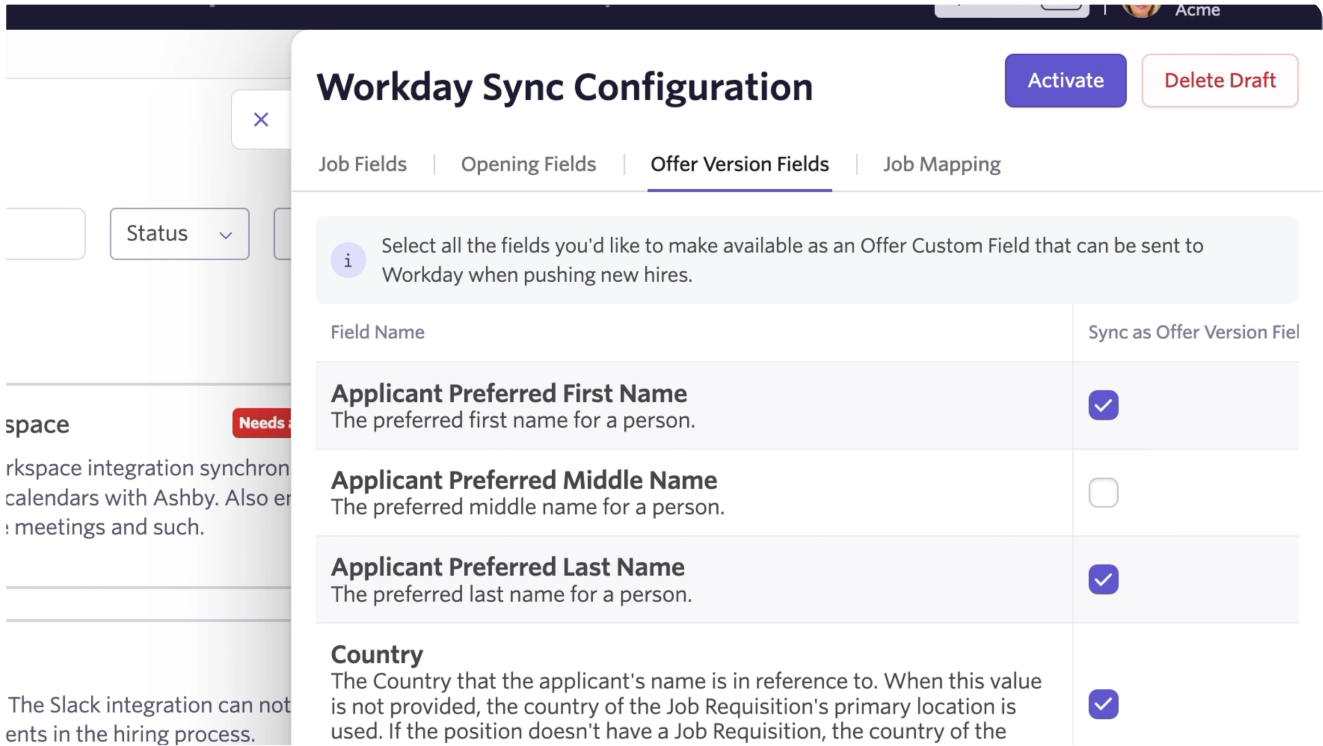 Select Ashby offer fields that should be synced to Workday
By integrating Workday with Ashby, you have a zero-maintenance, reliable, two-way sync that's fast to set up and has an immediate impact on your daily workflows.
In addition to being able to cancel our daily syncs on data integrity between our ATS and Workday, our teams are saving hours every day being able to own their workflows from end-to-end without having to copy and paste between systems, manually scheduling in [scheduling point solution], or making their interview plans fit inside the ATS versus what is best for assessing the candidate objectively and accurately. Ashby makes it easier for our teams to hire great talent quickly. -Toni Porter, Manager, Talent Acquisition Operations, Aurora Solar.
Read the full case study here: How Aurora Solar Saved 40+ Hours Monthly with Ashby's Seamless Workday Integration.
The Workday integration is currently available for Ashby customers. To get started you can head over to Ashby University and see an in-depth overview. If you're interested in trying out Ashby and our new Workday integration you can also book a demo with us to learn more.