Ashby x Mathison | How to Craft More Inclusive Demographic Data Collection
Shannon Ogborn
RecOps Consultant & Community Lead
In partnership with Mathison we're excited to share the addition of a new diversity survey template to Ashby's library. The template offers a more inclusive framework for collecting demographic data and was developed from Mathison research into over 150 organizations, DEIB experts, and consultation with underrepresented communities.
Including Diversity, Equity, Inclusion, and Belonging is becoming a bigger goal for companies across the board. Big or small, in the tech sector or beyond it, including DEIB in organizational and individual goals is more important than ever before. However, for many organizations, taking on large-scale DEIB improvements can feel overwhelming, often with no clear understanding of where to begin.
When it comes to diversity, equity, inclusion, and belonging (DEIB) in relation to hiring, the key to understanding how you're doing is to have strong data insights. Thinking or feeling like you're making progress in an area is not enough to enact meaningful change. Instead, you need to collect demographic information for as many candidates entering your pipeline as possible. This will open the door to a variety of reports and insights that will ultimately help your organization achieve your DEIB goals.
EEO pitfalls
In the US, many companies have historically used Equal Employment Opportunity (EEO) surveys as mandated by the government. These surveys are low lift, typically easy to turn on from your ATS, and require minimal setup and maintenance. That said, the EEO questions and responses are not customizable; companies are stuck with only the questions the government deems legally necessary to include. While utilizing EEO surveys to collect some demographic information is better than nothing at all, there are more inclusive ways to collect that data and to go beyond it.
Imagine you're a candidate applying for a role on a company's jobs page. You see a question about gender and you are given two options, male and female, neither of which you feel represent you. Odds are that you won't feel inclined to respond to the survey, and understandably! You want an option that best represents your identity and you're not seeing it. You may even feel like this company won't be a good fit for you, and decide not to apply at all.
This is where non-EEO diversity surveys come in. Diversity surveys are fully customizable both from a question and answer selection perspective. Utilizing diversity surveys allows your organization to track goals specific to your organization and create a better employer brand around your inclusive hiring practices. You're missing out on easy places to succeed if you minimize DEIB importance.
Designing something better
Given the limitations of EEO surveys many organizations are starting to build customizable diversity surveys – however determining the right set of questions can be difficult.
To address this we've partnered with Mathison who have done the heavy research lifting for you. Mathison identified 13 underrepresented groups you should take into account when thinking of creating and defining diversity goals. In their approach, Mathison was dedicated to helping organizations understand that diversity is far more than what you can see visually. They researched over 150 organizations and worked with their product advisory board which consists of global DEI leaders, as well as leaders from the underrepresented communities showcased in their research to assess which underrepresented communities are overlooked in the workplace. They found that in order to effectively increase diversity, they needed to be intentional about reframing the way we all define diversity.
In order to increase representation at our organizations, there needs to be intention about reframing the way we define diversity, and therefore, have a better understanding of the communities that are underrepresented in our workforce and in our hiring pipeline.
Diversity is complex. There are many different factors you'll need to consider, and your company may choose to add specific questions that are in compliance with local laws and that align with the areas you hope to improve.
Walking in candidates' shoes
This is an example of an EEO-standard question about gender identity: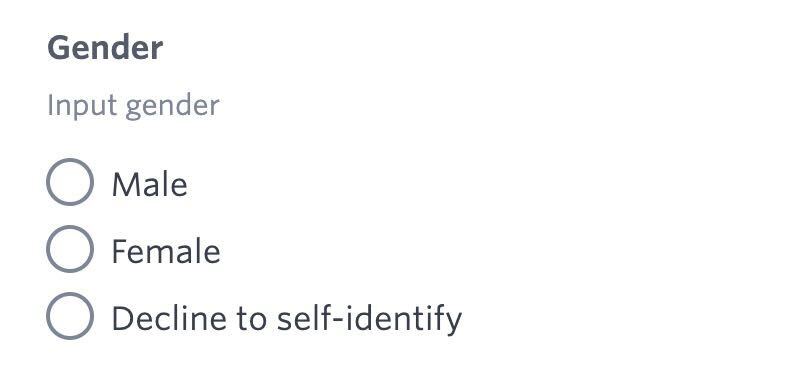 Now here's an example of a similar question utilizing Mathison's identified 13 underrepresented groups: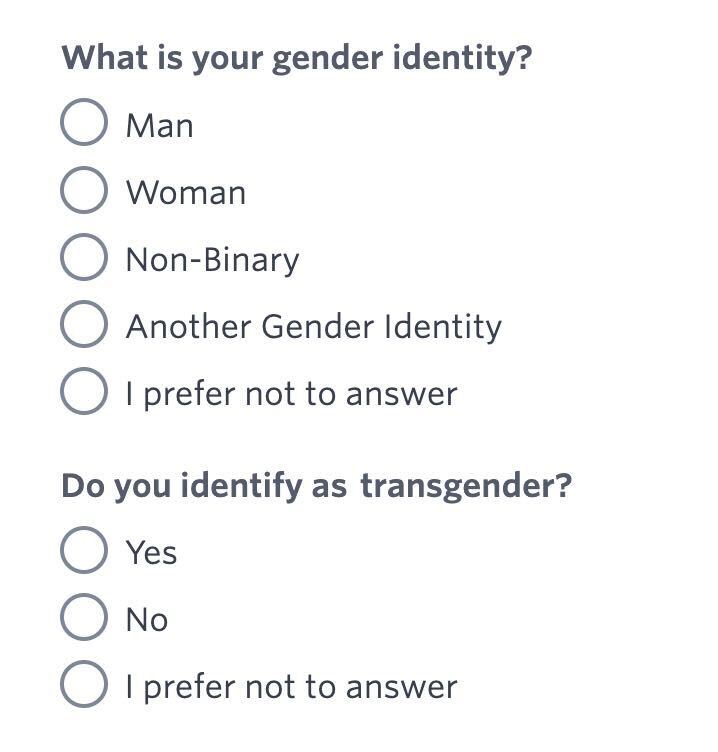 Which question includes a wider range of identities? Which one would more candidates feel like they can answer?
Candidates often feel more comfortable answering the question where the answer options better reflect all identities.
If you're an Ashby customer, you will see a diversity survey template in-app that Mathison has provided to gather representation information on the 13 underrepresented groups discussed earlier. You can edit this template to your organization's needs, or choose to start from scratch. If you are a Mathison customer, these same questions live in the internal surveys area and can be utilized as reference using the diversity survey feature in your ATS. Once you have accomplished setting up, turning on, and properly configuring your diversity survey, you are ready to start thinking about analysis of this data.
While it will take time to have a high enough volume of data to truly understand the outcomes in your organization based on the demographic information you are collecting, you can begin to consider what metrics you want to be tracking and which are the most important.
Incorporating better inclusion for better outcomes
There is much more you can do to create a thoughtful, intentional DEIB survey. (We've written more about it here!) In addition to these tips, make sure you brief candidates in a paragraph or so before the survey. Make sure the paragraph expresses 1) what degree of privacy to expect, 2) why this is being collected, and 3) why it's so important. But, as with many things, the first step to generating improvement is to get started where you can.
Incorporating DEI initiatives into your talent strategy can feel overwhelming, but the sooner you start collecting diversity survey data, the sooner you'll be able to analyze important outcomes and the closer you are to achieving your goals.
With Mathison and Ashby's collaboration, these new survey templates are ready for immediate implementation for current users. The questions are set up, based on this research, and can be accessed today.
Interested in how Ashby can help you achieve hiring excellence? We'd love to chat.
Connect with an expert at Mathison to learn how their platform can help you build, prioritize, and measure your DEI strategy.