How To Design a Better Diversity Survey
Halden Pfearsen
Managing Editor
If you want to know who is applying to work at your company, or if you'd like to cultivate a more diverse and inclusive workforce, you'll want to track demographic data. In order to start tracking that data, you need to ask some questions first. That's where a lot of people hesitate; how can you know that you're asking the right things in the right ways to get the information you want while being as inclusive as possible?
If that sounds familiar, this guide will help you figure out what to ask and why, to take the stress out of designing diversity surveys for your candidates.
Note that, for this article, we're focusing on candidate and hiring diversity surveys, rather than surveys for current employees, which is a topic for another day. We'll be focusing on candidate diversity surveys. We'll cover reasons to track candidate diversity, the best things to ask (and how to ask them), and briefly touch on how to track your results.
If you want to be better about tracking diversity information, but don't know what to ask, this article is for you.
Why to track candidate diversity
An inclusive, equitable, and diverse workplace starts well before an employee signs on. It starts as far back as how hiring is approached and thought of by those in leadership. It moves into how you write job descriptions and where you share them. By the time someone applies you already have a lot of moving pieces that impact how that person is likely to identify.
Tracking diversity at the hiring stage can tell you who is applying to work at your company and where your organization is falling short of market representation, as well as revealing the stages of hiring that help or hurt your diversity goals.
If you want to make your company into a richly diverse place to work, tracking DEI data is the most informative place to begin.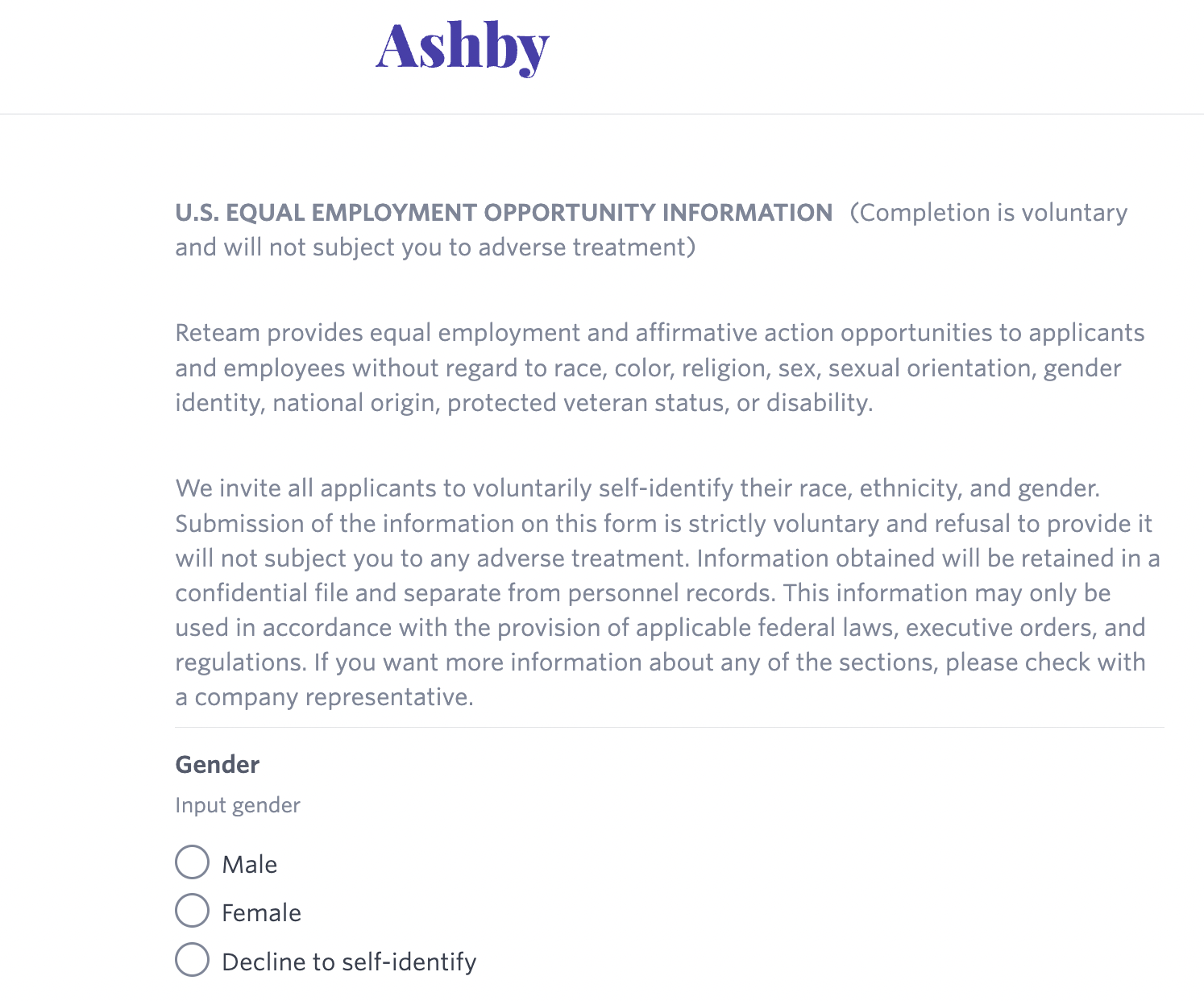 You may already be using Equal Employment Opportunity Commission or EEOC data, either because you're required to or because it's a good base from which to start tracking candidate diversity data. And it is a good base! But the EEOC survey set up can present as non-inclusive to applicants. Additionally, you may want more detail, or to track an element of identity that the EEOC questions don't cover.
What not to ask
The knowledge that there are questions you simply cannot ask a candidate may hold you back from running a diversity survey. Asking questions that could lead to discrimination is illegal in an interview. However, surveying for inclusiveness is critical to building a diverse workplace, and even required in some cases. Following the The Uniform Guidelines on Employee Selection Procedures is a good way to avoid any issues as you design your survey.
It's important to make sure these questions are always voluntary for the candidates. They should never be required in order to submit an application. They must also be uniformly asked and not related to a specific role in any way. Adding a note to the survey-taker that these questions are for furthering your DEI strategy, and will have no impact on their application, is a good idea.
Additionally, ensure that this data is anonymized to those who are involved with hiring your candidates. This data is great to collect, but only if it's being used after all hiring decisions are made. It must never impact the choice itself, even accidentally.
Check your hiring software to see what your options are for working with EEOC and diversity survey data. Ashby captures this data in such a way that it cannot be viewed on an individual basis, but can be analyzed in aggregate. You won't be able to see the data per person, even accidentally, but generating reports and analyzing your DEI survey data overall is extremely easy.
Once you're confidant in your approach, the way you ask your questions is the next important consideration.
What data do you need?
To figure out what questions you'll ask, pull back and look at your goals. Are you looking to improve where and how you source candidates? Are you hoping to uncover unconscious biases in your hiring process? Set your goal first, then consider which metrics that can help you make progress towards that goal.
For instance, if you're working to improve diversity via candidate sourcing, you may want to track which candidates come from which sources. So you may ask some questions about how they identify as well as how they heard about the job. Then you'd see if those things have a correlation. Frequently, inbound applications and referrals skew less diverse, but being able to identify that trend helps you show that you need to expand where you source new candidates.
Keep in mind that there are many types of diversity. Racial and ethnic identity, gender identity, LGBTQIA status, disability status, and veteran status are some elements you might want to consider, and you may have other elements of identity that you'd like to track instead or in addition.
It's much more effective (and easier!) to tailor your questions to your goals than vise versa.
While clear single-choice answer options will keep your data the cleanest, open-response boxes will give you the most inclusive answers. We suggest merging both. In academic and scientific surveys, the best practice is to ask participants to click on the best multiple choice answer and specify further in a write-in box. This helps you get both clean data and a full spectrum of answers, including ones you may not have considered.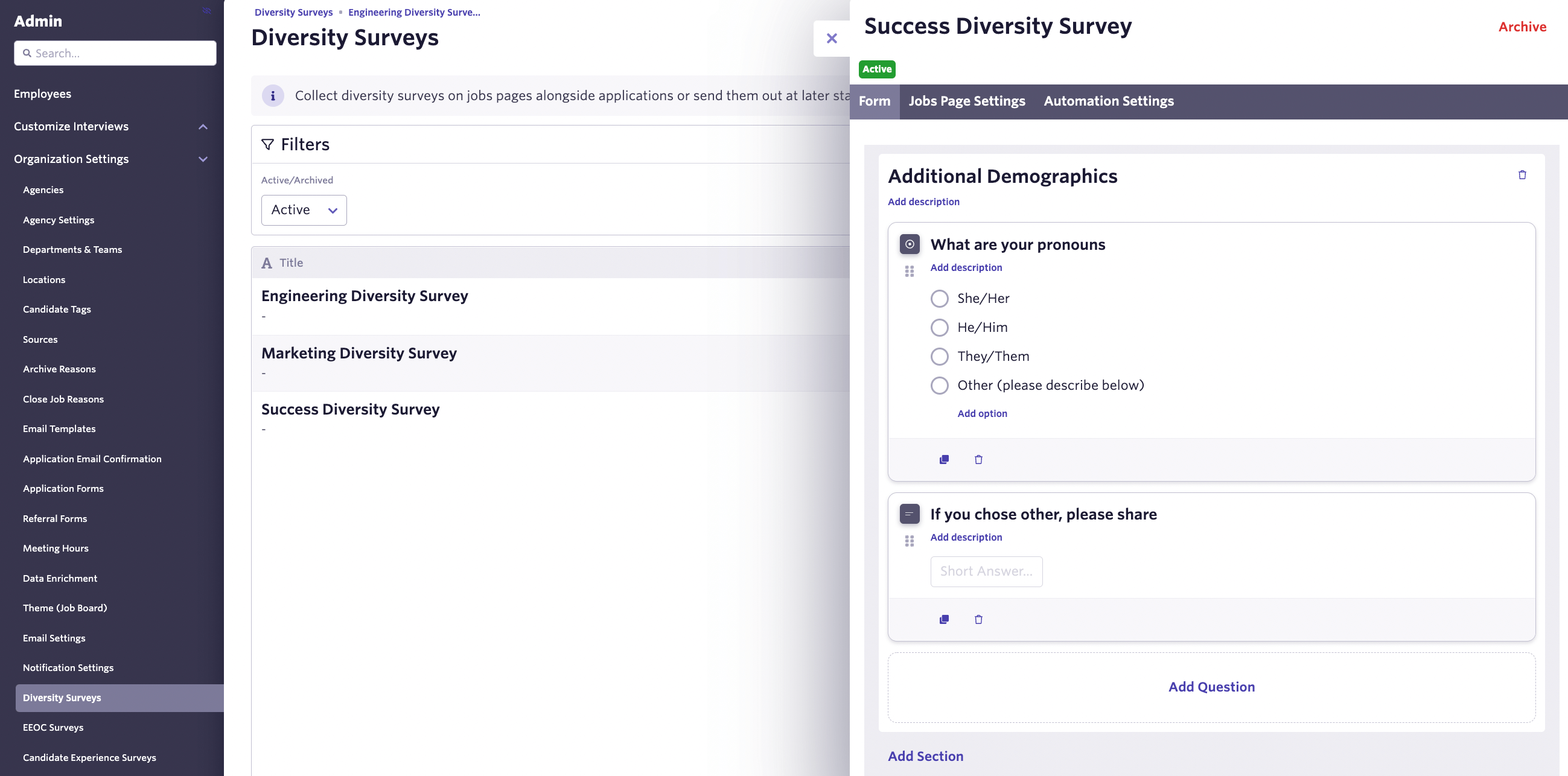 In Ashby, diversity surveys are completely customizable. You can start with EEOC questions or skip right to devising your own. And you can customize the type of question to match the information you need, so don't feel pressure to stick to multiple choice ranges.
Metrics and effective tracking
As you focus on improving your recruiting pipeline's diversity, you may see other metrics go down a bit. This is a temporary issue, and the focus shift will be worth it in the long run, but you'll want to make sure all your key stakeholders are aware of this up front and are ready to see those metrics shift.
We talk more about that in the next article in this series, How to Track and Improve Your DEI Hiring Metrics, so read that next if you'd like to know how to watch the results and make them better over time.
Think about how you want to send these surveys to your candidates. A big risk to optional surveys is survey fatigue, when a participant is tired from filling out multiple surveys or answering more questions than they have the energy to pay attention to. Survey fatigue can result in incomplete or skewed data.
Ashby offers very powerful tools for survey delivery automation - you aren't stuck giving them to candidates after they've filled out the rest of your application. Instead, you're free to collect the data at a later stage in the interview process. Check to see if this is an option for you.
Designing for your hiring future
It's ok to feel nervous about pursuing DEI and wanting to get it right, but following these best practices will help to alleviate stress and uncertainty while seeking to build out a more diverse and inclusive team.
Once you feel like you know what to ask, head over to How to Track and Improve Your DEI Hiring Metrics to learn more about tracking and analyzing what you've learned.
Liked this article? Subscribe to our blog for more.