Customer story
How Ashby Helped Convictional Grow From A Team Of 2 > 50 – And Scaled With Them Every Step Of The Way
Story from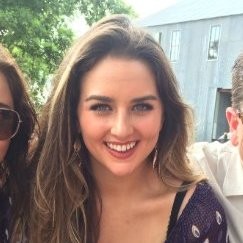 Jamie Cannon
Human Resources Business Partner
When the founders of Convictional noticed that the manufacturing to retail supply chain was full of labor-intensive elements, they set out to create an automation service to save time, effort, and cost. They succeeded, and gained Y-Combinator backing in the process.
One of the things YC let them in on was a secret known to high-performance startups: the best time to set up a formal process is before you think you need one.
So when it came time to start hiring, founder Roger Kirkness wasn't worried: he'd already set up Ashby. And when Convictional's Human Resources Business Partner, Jamie Cannon, joined the team down the line, their TA system was ready and waiting.
Building an unbeatable hiring process from the first brick
Convictional's founders knew that to be a great company, they needed to invest in hiring early. For them, that meant investing in Ashby.
"We had an Ashby instance from day one, before we even had an official payroll, because we knew we needed it more. Our whole hiring process has been tracked in Ashby, which gives us amazing data insights. Convictional's hiring is stronger because we built how we hire around a great tool." – Roger Kirkness
Not only was onboarding simple enough for two founders who'd never worked as recruiters, it was ready to go when their first TA hires joined the team. As soon as she joined the team, Jamie was impressed by how swiftly Ashby helped her onboard.
"I could tell Ashby was designed based on how a TA professional would use it. It was obvious what to do, where everything was, and how I could use this tool to help our recruiting program take off. We can rely on automation, notifications, and having all of our hiring information in one place and free up that mental space to make our hiring pipeline better. Everything we've built uses Ashby as the foundation." – Jamie Cannon
Developing an amazing culture – and an 81% offer acceptance rate – using dedicated hiring processes
Roger and his co-founder wanted a hiring system that matched the culture they hoped to build. He used his experience as a hiring manager in prior roles to work with Ashby to develop sourcing, stages, interviews, and scoring systems that all worked in harmony to generate an amazing team.
"I've interviewed hundreds of people at this point. I have a deep understanding of what I'm looking for. In the early days, we implemented things that didn't always work. But we kept Ashby. It's helped us be consistent as we've hired, it's kept track of everything so we can focus on the information we care about, and it lets us communicate our hiring principles to our hiring managers clearly. We make better hires because of the consistency Ashby brings." – Roger Kirkness
Convictional is able to assess and match their culture to the goals of their candidates so well that they have a glowing 81% offer acceptance rate.
"It's hard to build a process that gives you the information you need to hire with confidence. But using Ashby has led to higher quality hiring and better outcomes than we could have achieved with other ATS' I've used. We're really thrilled to have an 81% acceptance rate, because it means that we've created a great system, and Ashby is a big part of that." – Jamie Cannon
And while many startups don't know they have talent problems until they've become major issues, being equipped with Ashby from the start has helped Convictional spot potential issues and troubleshoot them away.
Key to Convictional's process is a panel interview they call the "gauntlet" – but they were finding that confidence dropped between that interview and the next, suggesting that ill-fitting candidates were making it too far through Convictional's pipeline.
"We were able to look at our screen and gauntlet (panel interview) passthrough rates (30% and 43%) to make a decision to add another screen. Afterwards, efficiency jumped! We've saved hundreds of hours of interview time for the team by recognizing that another screen would eliminate the need for some 120-minute gauntlet sequences. We would never have surfaced that without Ashby." – Jamie Cannon
A highly efficient hiring process scaling from 2 to 50+ employees
The time Ashby saves the Convictional TA team is spent digging deeper into their candidates, focusing on top-notch talent, creating both an amazing candidate experience and better assessments.
"Our biggest time savers are scheduling through Ashby and being able to write interview feedback in-app rather than filing it elsewhere. We're able to be so much more consistent and productive because of how smoothly Ashby runs." – Jamie Cannon
As Convictional has grown and changed, Ashby's customization has given them the flexibility to update their hiring process.
"Even when we've made updates and changes, everyone is on the same page and has been since we started in 2017. Ashby keeps everyone informed about candidates, pipeline, and how things are going. Alerts stop us from letting anything fall through the cracks. It's so easy to tell where a candidate is and to keep the entire process clean, no matter how big we grow and how many layers we add." – Jamie Cannon
Ashby as part of Convictional's DNA
Though team members have tried other tools in the past, at no point has the Convictional team considered an alternative.
"Ashby is much more powerful and easier to use than the legacy ATSs I've used in previous roles. It's hard to imagine anything better for Convictional – Ashby is in the water. We've never looked at alternatives because Ashby meets our different needs at every stage. When you have a tiny company, you need something low-effort, but when you grow, you want greater insight. It's about building for the future while affording it in the now. Ashby does both." – Roger Kirkess
Convictional
Convictional uses technology to make logistics easier for retailers and their suppliers by automating supplier integration, onboarding, and merchandising.