Customer story
How Infinite Lambda Got Back 20 Hours Weekly by Upleveling Their Startup Recruiting
Story from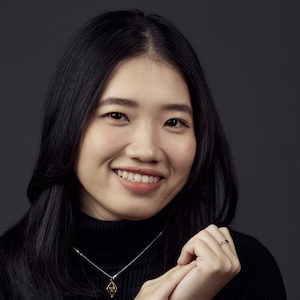 Chau Le
Recruitment Lead (EMEA & APAC)
Featured Talent Leaders:
Chau Le, Recruitment Lead (EMEA & APAC)
Dominik Simco, Senior Tech Recruiter
What You'll Learn
The importance of elevating your startup recruiting
Why you should switch from Google Sheets to an ATS
Ways to automate your global recruiting process
How to get a quality ATS on a startup budget
The Impact of Switching
Save 30+ minutes of recruiting time per day
Streamline scheduling, reporting, and other laborious tasks
Improve data acumen for improved hiring 
Problem
In the fast-paced world of tech startups, every hour counts. Before our partnership with Ashby, Infinite Lambda's hiring processes leaned heavily on inbound methods and our existing networks. We were using Excel effectively as an ATS. 
These simpler tools led to inefficiencies as our hiring needs grew and changed. We needed a real ATS to continue expanding globally without being mired in administrative tasks such as… 
Liaising with stakeholders
Setting up interviews
Capturing/tracking referrals
Collating feedback 
And running our recruiting process entirely in Google Docs, Excel, and Slack not only spread our data thin, but also costs us roughly 20 hours weekly. The process of drawing up manual reports alone was slow and often prone to errors.
Hypothesis
Our team was hoping to invest in a system that would allow us to grow our global team through an adaptable and time saving solution. Our desired requirements included:
Easy Setup: We didn't have the time to spend weeks onboarding and implementing a complicated recruiting stack. We wanted to be up and running quickly with repeatable templates for streamlining operations. 
Efficiency Enhancement: As previously noted, we needed to get out of Google Sheets and Excel for tracking applicants. This was simply insufficient for growing a startup — especially given we're hiring across Europe and Asia.
User Friendly Experience: We wanted to be able to easily understand how the product works and have quick access to support. Startups move fast, so waiting around for help when we have a pressing need is less than ideal.
Cost-Effective: All startups have to operate as leanly as possible, but we didn't want to sacrifice the quality of product we selected. We wanted a solution that balanced price and quality. 
Solution
Ashby came as a breath of fresh air. One of its significant benefits was the structured and automated processes it introduced, streamlining our aforementioned day-to-day operations. There are a number of noteworthy features that ultimately led us to choosing Ashby. 
Standardized Templates: While it takes some upfront time investment to develop the templates needed in Ashby, once they're there… it just takes a few clicks to rock and roll. We've set up Candidate Survey templates, which makes it easy to get feedback from candidates and really improve our hiring process. We no longer have to start from scratch on tasks like this every time we have a new role. 
Easy Scheduling: On any given day, we used to lose 30 minutes to coordinating calendars across internal stakeholders and candidates. Now I just send the Ashby link to the candidate and the tool takes care of it all. 
Automatic Reporting: Instead of manually piecing together data across Google Sheets and Excel, Ashby Analytics has brought us to a new level of data-driven decision-making. We automatically have important recruiting metrics generated for us, such as time taken to fill a position or the rate of offer acceptance. 
Beyond the specific feature and process improvements Ashby brought to Infinite Lambda,  Ashby also emphasized the human side of recruitment, offering tools that help gauge and enhance the candidate experience. Given our commitment to creating a positive impression at every touchpoint, this overall resonated deeply with us.
Impact
Even within a short time frame, we've drastically reduced the time spent on administrative tasks by over 20 hours saved every week. The confidence we have in our candidate experience has also surged. With Ashby, we're not just streamlining our processes, but also ensuring we identify and onboard the best talent available.
Ready to unlock the power of Ashby for your startup's hiring needs? Get in touch.